J Kumar Infraprojects today finally received a Letter of Acceptance (work order) for completing pending (balance) construction work on the DN Nagar – IL&FS section of Mumbai Metro's 23.6 km Line-2B (Yellow Line).
A contract for this 12.824 km elevated section with 10 stations was originally awarded to Simplex Infrastructure in 2017, but terminated in January 2020 due to poor progress on key performance indicators.
Mumbai Metropolitan Region Development Authority (MMRDA) had since re-invited bids twice. In the last round, financial bids were opened in November 2020 in which J Kumar placed the lowest bid at Rs. 1389.48 crore – 18.99% higher than MMRDA's estimate. After 6 months of negotiations, the final value has been settled at Rs. 1307.88 crore.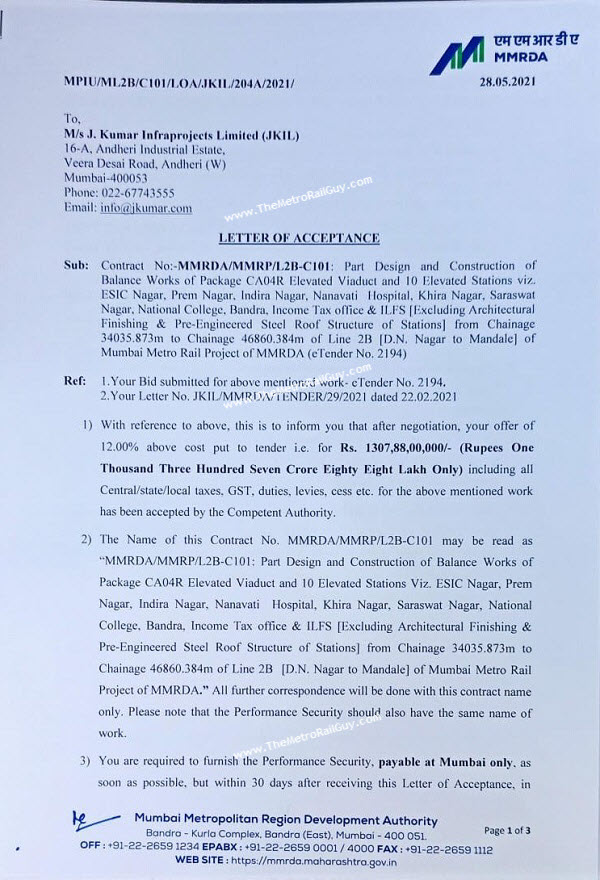 Package: L2B-C101 (12.824 Km)
Scope: Part design and Construction of (Balance Works of Package CA04R) Elevated Viaduct and 10 Elevated Stations viz. ESIC Nagar, Prem Nagar, Indra Nagar, Nanawati Hospital, Khira Nagar, Saraswat Nagar, National College, Bandra, Income Tax Office & ILFS [excluding Architectural Finishing & Pre-Engineered Steel Roof Structure of Stations] from Chainage 34035.873m to Chainage 46860.384 OF Line2B [DN. Nagar – Mandale] of Mumbai Metro Rail Project of MMRDA
MMRDA's Estimated Cost: Rs 1167.65 crore
J Kumar Infra's Bid: Rs. 1389.48 crore (see bid values of all firms)
Final Contract Value: Rs. 1307.88 crore
Completion Period: 30 months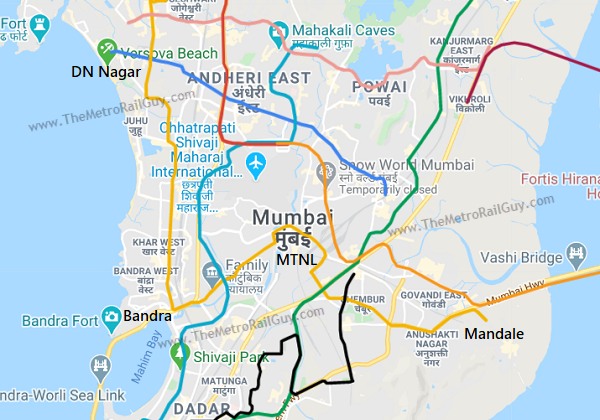 With this development – a major pre-construction hurdle has been crossed that will finally see the resumption of construction work. Ground work is expected to start in Q3, and will be slow due to the onset of the monsoons, but should pick up from Q4.
In related news – trial runs on Line-2A's 9.5 km northern section (Dahanukarwadi – Dahisar East) have been planned to start this coming Monday, with MMRDA claiming commercial operations will start in October.
I don't see that being met due to pending architectural & finishing works at all stations and pending arrival of BEML train-sets. Only one prototype train has been received so far at Charkop Depot – that too with issues – and DMRC wants those to be rectified in subsequent train-sets prior to delivery from Bengaluru.
For more updates, check out my Home Page!
– TMRG