Chennai Metro Rail Ltd (CMRL) today re-invited tenders to appoint a General Consultant (GC) for Chennai Metro's Line-4 with an objective to assist CMRL with design, supervision, safety, quality control and contract management.
Chennai's new 26.09 km east-west Line-4 of the 118.9 km Chennai Metro Phase 2 project will connect Lighthouse with Poonamallee Bypass via Porur through 28 stations – 18 elevated and 10 underground.
As shared earlier – CMRL had originally invited EOI proposals in January 2020 and gone through the motions of the bidding process to shortlist 3 consortia in February 2021. The opening of financial bids was subsequently put on hold with the entire process getting scrapped in May-end after some of the 4 disqualified bidders were not happy with the result and evaluation parameters.
Tender No: CMRL-P2-GC-02-2021
Contract Duration / Deadline: 63 months (5.25 years)
Pre-Bid Meeting: 16/06/2021 at 15:00 hrs
Bid Submission End Date: 14/07/2021 Up to 18:00 hrs
Technical Bid Opening Date: 15/07/2021 at 10.00 hrs
Brief Scope: CMRL invites online tender through E-procurement bids on Quality-Cost Based Selection (QCBS) for the NIT No- CMRL-P2-GC-02-2021- "Selection of General Consultant (GC) for Chennai Metro Rail Phase 2 Project – Corridor 4 and part of Corridor-3&5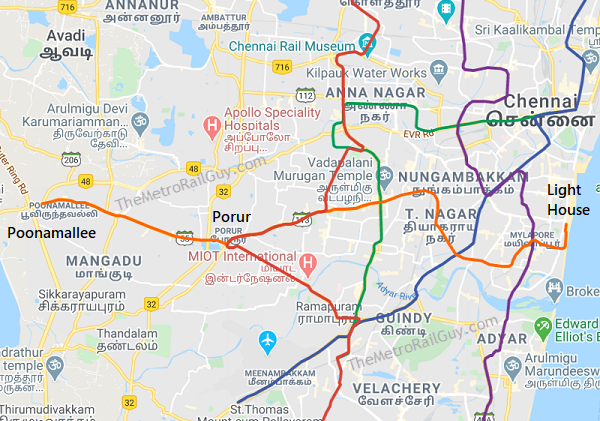 Line-4's GC service and its two elevated packages, awarded to HCC-KEC JV and L&T, will be financed by the Asian Infrastructure Investment Bank (AIIB) through a USD 356.65 million (approx. Rs. 2700 crore) loan.
The GC will be selected on the Quality and Cost Based System (QCBS) method in which the winner's selection is made through a combination of points scored after technical bid (70% weight) and financial bid (30% weight) evaluation.
HCC-KEC JV in the past fortnight began Line-4's basic barricading work along Poonamallee High Road in Nazarethpettai to house equipment / machinery. Construction work is going to be kicked off in the coming months, so I'm expecting the GC's bidding process to be wrapped up fairly quickly. CMRL in the tender documents in fact puts the tentative commencement of the GC service at October 18 2021.
For more updates, check out my Home Page!
– TMRG