SYSTRA – AECOM – Egis Rail JV on June 19 emerged as the preferred bidder for Surat Metro Phase 1's General Engineering Consultant (GEC) contract.
Gujarat Metro Rail Corporation (GMRC) had invited EOI applications for this consultancy contract in April 2020 funded by AFD through a 250 million euro (approx. Rs. 2071 crore) loan. Applications were opened in September to reveal 6 consortia had shown interest.
In February, 4 of those bidders qualified and were shortlisted to next Request for Proposal (RFP) round, but GMRC later strangely ended up inviting both disqualified bidders (SYSTRA – AECOM – Egis JV and Nippon Koei India – RITES – TPF JV) as well to the RFP round.
MM S.p.A – Mott Macdonald – SMEC JV did not respond to the RFP. Financial bids were opened on June 19 in which SYSTRA – AECOM – Egis JV placed a bid of Rs. 268 crore – making them the winner after the 70:30 Quality and Cost Based Selection (QCBS) method.
Scores
| | | |
| --- | --- | --- |
| Bidder | Technical Score | Final Score |
| SYSTRA – AECOM – Egis JV | 63.88 | 97.40 |
| DB Engineering & Consulting GmbH – AYESA – Korea Rail – DOHWA JV | 60.57 | 96.37 |
| Nippon Koei India – RITES – TPF JV | 60.46 | 93.74 |
| Rodic Consultants Pvt. Ltd. – Artelia – Italffer – TYPSA JV | 60.50 | 92.08 |
| Geodata Engineering S.p.A. – LBG – Hill International JV | 62.40 | 89.11 |
EOI Notice No: GMRC/EOI/GEC/SURAT/2020
Brief Scope: The Gujarat Metro rail Corporation (GMRC) Limited has applied for a financing from Agence Française de Développement ("AFD") and Kreditanstalt fur Wiederaufbau (KFW), and intends to use part of the funds thereof for payments under the following project of Appointment of General Engineering Consultant for Surat Metro Rail Project – PH-I. Detailed scope of services shall be issued during RFP stage.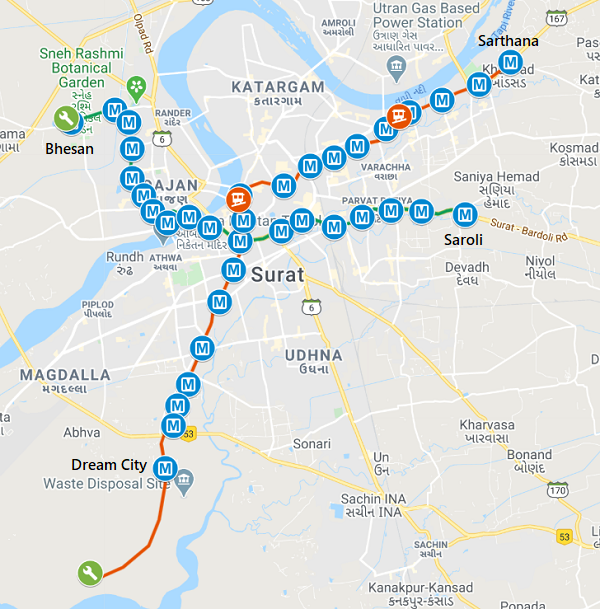 If and when awarded, SYSTRA – AECOM – Egis Rail JV will work closely with GMRC and its contractors (see list) which includes the likes of Sadbhav Engineering, J Kumar Infraprojects, Gulermak-Sam and soon ITD Cementation.
Their role would include design / design review, system integration, assistance in procurement, construction supervision (including monitoring of statutory obligations), project management services, contract administration and interface management including assistance in testing and commissioning of the Surat Metro rail project.
For more updates, check out the Surat section or my Home Page!
– TMRG