Maharashtra Metro Rail Corporation (MahaMetro) on Thursday night quietly started train testing (trial runs) on a 1.38 km section between Vanaz and Anand Nagar of Pune Metro's 14.665 km Aqua Line.
MahaMetro's team operated a CRRC train, borrowed from Nagpur Metro, that had arrived at Kothrud Depot back in February. This trainset will be utilized for testing before the system's dedicated Titagarh – Firema train-sets start arriving from Italy and West Bengal later this year.
From what I hear, Alstom Transport – the traction contractor for the 31.25 km Pune Metro Phase 1 project was handed site access on July 5 and the team completed all overhead electrification (OHE) wiring and adjustments within just 3 days.
I'm not sure why testing started late at night as the primary goal was to check for Schedule of Dimensions (SOD) clearances and observe the train's interaction with the civil structure to ensure there are no physical obstructions along the way. Having enough light is important.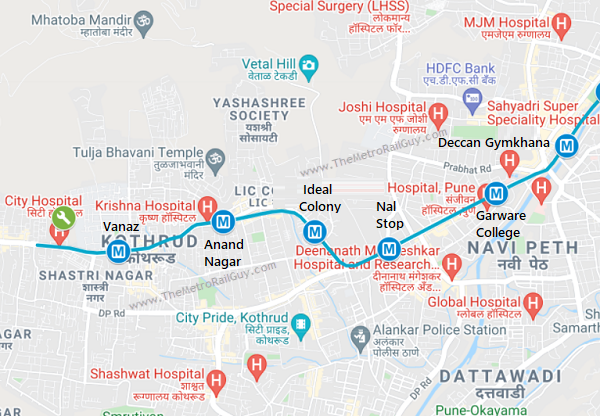 The Vanaz – Anand Nagar route on Paud Road is part of the 7.15 km Reach 2 built by NCC Ltd. The team cast its first pier and also launched its first segment (8.5m x 3m) in March 2018.
Video:
Here's a nice aerial flyby of Reach 2 uploaded by MahaMetro (they do this monthly) on June 22:
For more updates, check out the Pune section or my Home Page!
– TMRG
Hat-tip: Anirudh Kulkarni
Subscribe to Free Email Notifications