October 12 Update: LOA contract to KEC has been issued with a value of Rs. 92,22,10,619.85 (Rs. 92.22 crore).
July 29 Original Post:
KEC International on Wednesday emerged as the lowest bidder for the RSS, TSS & ASS substation and cabling works of Patna Metro's Phase 1 project after DMRC opened financial bids.
This is Patna's very first electrification-work related package of the 30.91 km Phase 1 which will feature two mostly-elevated lines with 24 stations including 2 interchanges at Khemni Chak and Patna Junction Railway Station.
DMRC invited bids for this package in September with an estimate of Rs 104.22 crore and completion period of 36 months (3 years). Technical bids were opened in November to reveal 6 bidders out of which Linxon, Sterling & Wilson and Kanohar Electricals were disqualified during evaluation.
Financial Bid Values:
| | |
| --- | --- |
| Firm | Bid (Rs. Crore) |
| KEC International | 82.34 |
| Siemens | 94.99 |
| Kanti Prashad Mittal | 95.31 |
Contract: PE-01
Scope: Design, Supply, Installation, Testing and Commissioning of Receiving cum Traction (RSS + TSS) and Auxiliary Main Substation (ASS) including High Voltage Cabling from Grid Substation for Patna Metro Rail Project.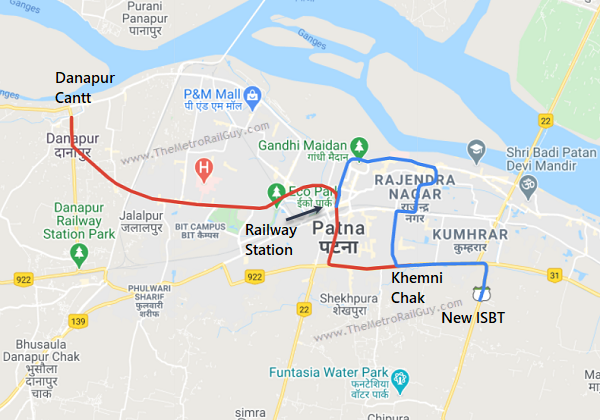 KEC's bid of 82.34 crore was well below DMRC & PMRC's budgeted estimate of Rs 104.22 crore, so a contract should be awarded in the coming weeks without much fuss.
This will be KEC's second win in Patna Metro's Phase 1. Back on July 16, they were also the lowest bidder for New ISBT Depot's ballasted track-work contract (PT-08).
With this development, 3 more ongoing tenders are waiting for their financial bids to be opened. This includes track-work tenders Package PT-07 & Package PT-04 and E&M package Package PE-02. Stay tuned…
For more updates, check out the Patna section or my Home Page!
– TMRG