Himcon Engineers (India) and S.C. Agarwal earlier this month emerged as the lowest bidders for 2 small-value contracts (DC-27 & DT-12) related to remodeling Delhi Metro Pink Line's existing Mukundpur Depot.
Besides augmenting capacity for the Pink Line's trains, this upgrade work under the 65.1 km Phase 4 project is being undertaken to allow for the Magenta Line's trains (some or all of the 144 new coaches) to be stabled and maintained at Mukundpur in the future.
Pink Line (Line-7) will see the following additional facilities created:
Inspection Bays: 3
Workshop Bays: 1
Stabling Lines: 12
Test Track: 1
Magenta Line (Line-8) will see the following new facilities created:
Inspection Bay: 2
Workshop Bays: 2
Stabling Lines: 13
Test Track: 1
Shunting Neck: 1
ETU: 1
Civil Package DC-27
DMRC invited tenders (bids) for this package in March-end with an estimated cost of Rs. 71.37 crore and 30 month completion deadline. Technical bids were opened in June to reveal 10 bidders and financial bids were opened on August 3.
Financial Bid Values of Lowest 5 Technically-Qualified Bidders:
| | |
| --- | --- |
| Firm | Bid (Rs. Crore) |
| Himcon Engineers (India) | 62.64 |
| KBG Engineers | 63.06 |
| Quality Buildcon | 66.37 |
| Pioneer Fabricators | 70.80 |
| Lisha Engineers | 70.87 |
Brief Scope: Civil Works for Remodeling & Augmentation of Mukundpur Metro Depot cum Workshop including design, fabrication, supply & erection of pre-fabricated steel roof structures, roof portals, purlins, sheeting etc. and water supply, sanitary installation, drainage & site development works at Mukundpur Depot for Line 7 & Line 8 of Delhi MRTS Phase IV Project.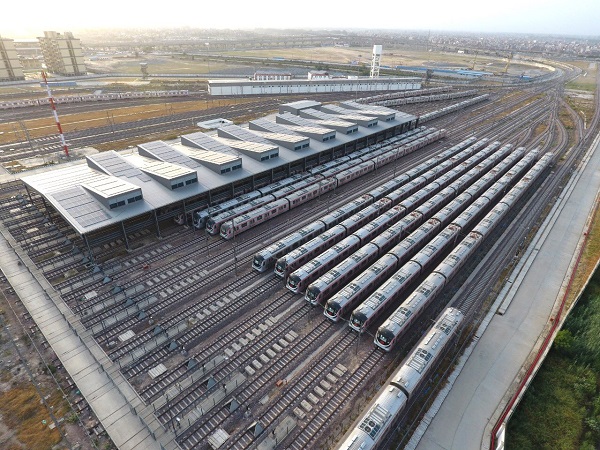 Track Package DT-12
DMRC invited bids for this track-work package in April with an estimate of Rs. 9.63 crore and completion deadline of 24 months. They received 2 bids in May, and during evaluation Pee Pee Mandal Projects' bid was disqualified.
S.C. Agarwal's Bid: Rs. 11.29 crore (opened August 6)
Brief Scope: Supply, Installation, Testing & Commissioning of Ballasted/Ballastless Track in Mukundpur Depot for augmentation of additional maintenance facilities in Standard Gauge Corridor of Delhi MRTS Project of Phase-IV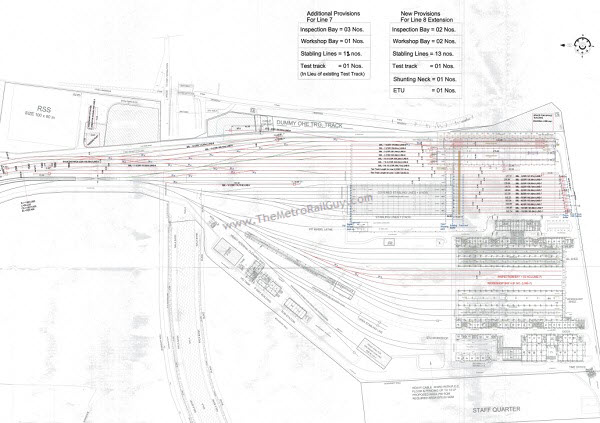 Himcon's bid was a slam-dunk and well below DMRC's budgeted estimate, so a contract for DC-27 should be awarded in the coming weeks. I believe DMRC will most likely invite, if not already, S.C. Agarwal to negotiate DT-12's final contract value as their bid was 17.24% higher than the budgeted estimate.
In addition to these 2 packages, DMRC back in March also invited bids for Package DE-14 related to electrification works of Phase 4's 12.098 km Pink Line extension (Maujpur – Majlis Park) which includes work inside Mukundpur Depot. That tender received 8 bids in June and technical bid evaluation is still underway. Stay tuned to find out its winner…
For more updates, check out the Delhi Metro section or my Home Page!
– TMRG