January 18, 2021 Update: DMRC has issued LOA for DC-05 to Afcons Infrastructure with a contract value of INR 2404,99,99,990.71 + EURO 85,79,782 (Approx. Rs. 2481,50 crore) – see details.
November 23, 2021 Update: Afcons Infrastructure is lowest bidder (L1) for DC-05's contract – see details.
September 14, Original Post: 4 construction firms have submitted bids to build Delhi Metro's tunneling contract DC05 of the Magenta Line's 28.92 km Janakpuri West – RK Ashram extension after the Delhi Metro Rail Corporation (DMRC) today opened technical bids.
This 7.46 km underground section connects a ramp north of Derawal Nagar with RK Ashram via 6 stations at Derawal Nagar, Ghanta Ghar, Pulbangash (interchange with Red Line), Sadar Bazar, Nabi Karim & Ramakrishna Ashram Marg (interchange with Blue Line).
This is Magenta Line's 4th (and final) civil package in the 65.1 km Phase 4 project. Other packages are 12.375 km DC-01, 7.473 km DC-03R, 2.03 km underground DC-06 – all of which are under construction.
DMRC invited tenders for this contract – financed by JICA through a Rs 8,390 crore loan – in June 2021 with a 42 month deadline and an unknown estimate. They had previously estimated it to cost Rs. 2444.828 crore, but I'm not sure if that is still current.
Bidders:
Afcons Infrastructure
Gulermak Agir Sanayi Insaat ve Taahhut A.S.
ITD Cementation (ITD Cem)
Larsen & Toubro (L&T)
Brief Scope: Design & Construction of Twin Tunnel by shield TBM, Tunnel by Cut & Cover, Underground ramp at Derawal Nagar and Six underground stations viz. Derawal Nagar, Ghanta Ghar, Pulbangash, Sadar Bazar, Nabi Karim & Ramakrishna Ashram Marg Including Architectural Finishing, Water supply, Sanitary installation, Drainage works of stations on Janakpuri West to R.K. Ashram Corridor (Line-8 Ext.) of Phase-IV of Delhi MRTS.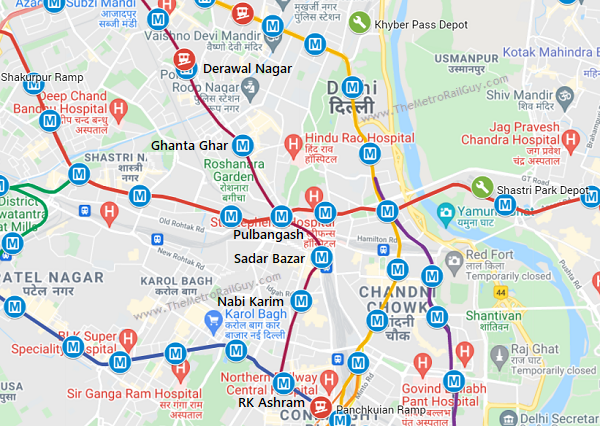 The bids have now been sent for technical bid evaluation which can take a couple months to complete. When that is done, the financial bids of the technically qualified bidders will be opened to reveal who's the lowest bidder and most likely contractor.
The assigned contractor will be required to use at least 4 tunnel boring machines (TBMs). DC-05's design details such as crossover and ramp locations can be viewed here.
DMRC has publicly posted they're chasing a June 2024 deadline to start operations on the Magenta Line's 28.92 km extension between Janakpuri West – RK Ashram. That just won't be possible due to construction practicalities and I see this section opening no sooner than mid-2026 at this time.
With this development, technical bids for all 4 JICA-funded underground packages of Phase 4 have been opened. I believe we'll start seeing financial bids getting opened in November with the award of construction contracts, if feasible depending on bid values, by year-end.
For more updates, check out the Delhi Metro section or my Home Page!
– TMRG