3 firms / consortia have submitted bids to construct the 8.198 km Package C-5  of the 508.17 km Mumbai – Ahmedabad High Speed Rail (MAHSR Bullet Train) after the National National High Speed Rail Corporation Ltd. (NHSRCL) opened technical bids today.
Package C5 connects chainage KM 393.700 and KM 401.898 of the main-line within Vadodara city and is the second shortest of 5 packages within Gujarat state. In mid-2022, it will become Gujarat's fifth and final section to head into the construction stage.
NHSRCL had invited bids for its construction in June 2021 with a completion period / deadline of 1490 days (4 years) and unknown estimate.
Lead Bidders:
GR Infraprojects Ltd. (likely in a JV with Sadbhav Engineering)
IRCON International Ltd. (likely in a JV with DRA Infracon)
Larsen & Toubro Ltd. (L&T)
IFB Number: Package No. MAHSR-C-5
Brief Scope: Design and Construction of Civil and Buildings Works including Testing and Commissioning on Design Build Lump Sum Price Basis for Double Line High Speed Railway involving Vadodara Station, Confirmation Car Base, Viaducts & Bridges, Crossing Bridges and Associated works between MAHSR Km. 393.700 and MAHSR Km. 401.898 in the State of Gujarat for the Project for Construction of Mumbai-Ahmedabad High Speed Rail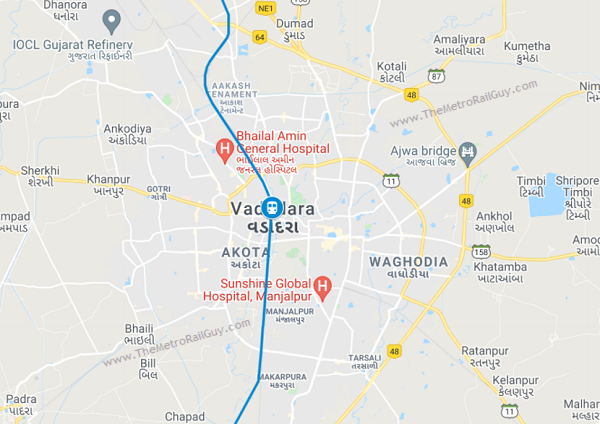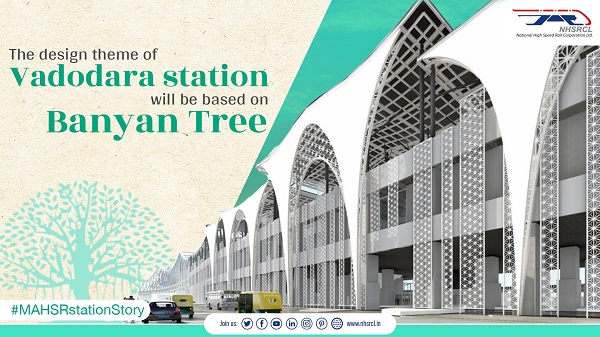 This package's tendering process took a long time to start due to a redesign for optimizing the quantum of construction required.
Per NHSRCL's tweet from March:
The station design of Vadodara HSR station for Mumbai Ahmedabad #HSR corridor has been strategically redesigned to reduce construction of various structures. Earlier, the proposed bridge span that would cross the railway tracks was of the length of 100 m+220 m+120 m.

However the new alignment will require an ordinary span of only 40m. Earlier, 13 railway lines were crossing the yard near the platform area whereas the new alignment will affect only two railway lines. With the new alignment, crossing over of multiple railway crossings, major displacement of commercial and housing units have been avoided. The new design also offers an improved multimodal integration planning around HSR station area. All these changes would lead to faster construction and save Rs. 2000 crores (approx) in the process.
Video explaining the change:
The bids have now been sent for technical evaluation which – going by C7 & C8's experience – should take a couple months to complete. When that is done, the financial bids of the technically qualified bidders will be opened to reveal who's the lowest bidder and most likely contractor for this package.
With this development – here's a status of each civil package of the bullet train project. This table is best viewed on a desktop device.
| | |
| --- | --- |
| Package & Scope | Status |
| C1: 1.028 km Underground Station at BKC, Mumbai | Bids Invited in November 2019; Current Opening Date: Dec 7, 2021 |
| C2: 20.377 km underground tunnel between BKC Station to Shilphata, Thane (3 Mega TBMs to be used) | Bid Submission Deadline Passed – No Bids Received |
| C3: 135.450 km elevated line between Shilphata, Thane and Zaroli Village (MH/GJ Border) | Tender Notice Pending |
| C4: 237.1 km elevated line between Zaroli Village (MH/GJ Border) and Vadodara | Under Construction by Larsen & Toubro |
| C5: 8.198 km elevated viaduct and station within Vadodara | 3 bids received (this post!) |
| C6: 87.569 km elevated viaduct between Vadodara and Ahmedabad | Under Construction by Larsen & Toubro |
| C7: 18.133 km elevated viaduct and station within Ahmedabad | IRCON – DRA JV is lowest bidder |
| C8: 2.126 km viaduct, building works at Sabarmati Depot | SCC – VRS JV is lowest bidder |
A list of all bullet train civil packages and their status can be viewed here.
For more updates, check out the High Speed Rail section or my Home Page!
– TMRG