AECOM India – Oriental Consultants Global – Nippon Koei JV on Thursday emerged as the preferred bidder for the General Consultant (GC) contract of Chennai Metro's 26.09 km Line 4 after Chennai Metro Rail Ltd. (CMRL) opened financial bids.
This is a retender to provide GC services for Chennai Metro Phase 2 project's Line-4 which aims to connect Lighthouse – Poonamallee Bypass via Porur through 28 stations – 18 elevated and 10 underground. The original tender was launched in January 2020 but scrapped in May 2021 before financial bids could even be opened.
CMRL re-invited bids for the service in June with a 63 months (5.25 years) contract duration and received 4 bids in August.
AECOM JV's win is based on the Quality and Cost Based System (QCBS) method in which the winner's selection is made through a combination of points scored after technical bid (70% weight) and financial bid (30% weight) evaluation.
Final scores are unavailable at this time. If someone is aware – please leave a comment. Until then, here are the financial bid values:
| | |
| --- | --- |
| Firm | Bid (Rs. crore) |
| AYESA Ingenieria y Arquitectura – Ayesa India – Korea Rail Network Authority JV | 126.70 |
| MM S.p.A – Mott Macdonald – Padeco JV | 136.11 |
| AECOM India – Oriental Consultants Global – Nippon Koei JV | 141.30 |
| SYSTRA – Egis Rail – RITES JV | 165.86 |
Tender: CMRL-P2-GC-02-2021
Brief Scope: CMRL invites online tender through E-procurement bids on Quality-Cost Based Selection (QCBS) for the NIT No- CMRL-P2-GC-02-2021- "Selection of General Consultant (GC) for Chennai Metro Rail Phase 2 Project – Corridor 4 and part of Corridor-3&5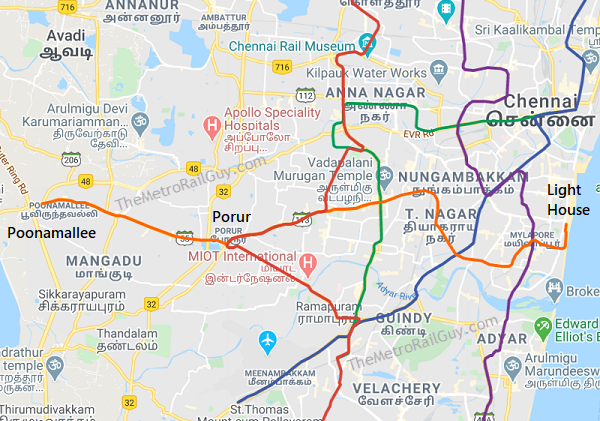 This consultancy service will be financed by the Asian Infrastructure Investment Bank (AIIB) through a USD 356.65 million (approx. Rs. 2700 crore) loan. Its concept was approved by AIIB's board in December 2019 and the final approval was just granted on September 23.
Per the re-tender notice, CMRL was looking to appoint a consultant by October 18, 2021, and they're right on track. If and when awarded, this will be AECOM and Oriental Consultants' first GC service contract in Chennai. Their partner Nippon Koei is already engaged in Line-3 and Line-5's GC work to provide assistance with planning, design, QA/QC, safety etc.
For more updates, check out the Chennai section or my Home Page!
– TMRG