Bangalore Metro Rail Corporation Ltd. (BMRCL)'s updated website indicates RITES Ltd. was on Monday awarded a Rs 20.58 crore Project Management Consultant contract for Bangalore Metro's 56 km Line-5 (Blue Line).
This line of Phase 2A (ORR Line) and Phase 2B (Airport Line) will connect Silkboard – KR Puram – Bengaluru International Airport through 30 stations on the Outer Ring Road and NH-44.
BMRCL had so far utilized their in-house project management team for the 73.92 km Phase 2 project's construction. They invited tenders for Phase 2A/2B's PMC contract in September 2020 with an expected duration of 48 months. Technical bids were opened in June 2021 to reveal 2 bidders – RITES and Aarvee Associates.
RITES's selection was made on the QCBS (Quality and Cost Based Selection) basis. If someone has final scores (technical + financial) for each bidder, then leave a comment below or shoot me a message via the Contact page. I'd like to add it in here for record keeping.
Award Date: 13/12/ 2021
Contract Value: Rs. 20,58,00,000
Tender No: BMRCL/Phase-2A & 2B/Via & Stns /PMC/2020/72
Brief Scope: Limited Project Management Consultancy (Designated Engineer) for the Civil construction works of Metro Corridor from Central Silk Board Junction to Kempegowda International Airport of Bengaluru Metro Rail Project Phase 2A & 2B.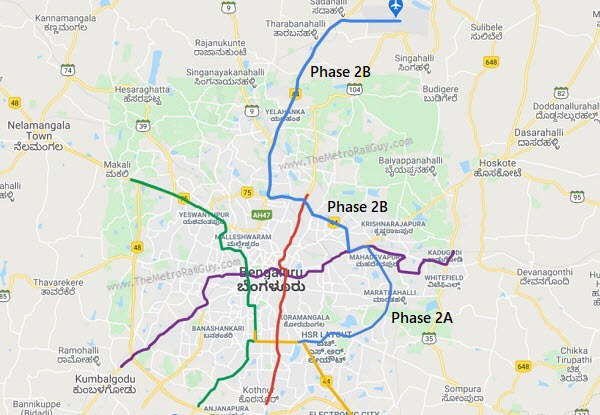 Construction is well underway on the ORR by Afcons Infrastructure and Shankaranarayana Constructions (SNC), while civil construction contracts for the airport line were just awarded to NCC in mid-November. Pre-construction ground work is expected to begin in January 2022 with full-fledged construction work in Q2.
For more updates, check out the Bangalore Metro section or my Home Page!
– TMRG