Bangalore Metro Rail Corporation Ltd. (BMRCL) on Monday invited tenders (bids) to appoint a Project Management Consultant (PMC) for the civil construction works of Bangalore Metro's 55 km Line-5 (Blue Line) which'll connect Silkboard – KR Puram – Bengaluru International Airport through 30 stations on the Outer Ring Road and NH-44.
BMRCL has so far utilized their in-house project management team for the 73.92 km Phase 2 project's construction and has not appointed General Consultants either.
But with this massive new line about to be built as part of the 18.236 km Phase 2A and 36.511 km Phase 2B projects, they're now seeking external PMC support through funding backed by the Asian Development Bank (ADB) which, after their Management Review Meeting on September 10, is expected to approve a $500 million (approx. Rs. 3,760 crore) loan any time now.
Tender No: BMRCL/Phase-2A & 2B/Via & Stns /PMC/2020/72
Brief Scope: Limited Project Management Consultancy (Designated Engineer) for the Civil construction works of Metro Corridor from Central Silk Board Junction to Kempegowda International Airport of Bengaluru Metro Rail Project Phase 2A & 2B.
Duration: 48 months
Date & time of submission: 19.10.2020 at 17.30 Hrs
Date & time of tender opening: 20.10.2020 at 15.30 hrs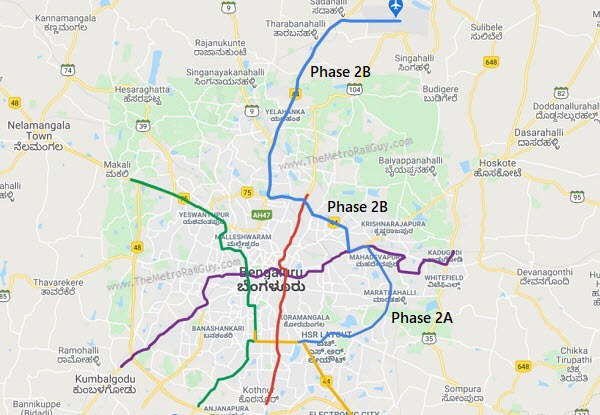 Per the tender document, evaluation of the PMC bids will be on QCBS (Quality and Cost Based Selection) basis and Two Stage procedure shall be adopted for evaluating the proposals. The financial scores (Sf) of the bidders are to be computed as follows:
Sf = 3500 x Fm/F, where Fm is the bid value of the Lowest bidder, F is bid value of the Bidder under consideration for ascertaining the financial score.

After evaluation as above, the Bidder who secures HIGHEST COMBINED SCORE 'S' would be preferred as the successful Bidder.
Where, S= St + Sf
'St' is Technical score.
'Sf' is financial score.
Back in February 2020, BMRCL awarded two contracts for this new line's Detailed Design Consultancy (DDC) service – a Rs. 8.30 crore contract to SMEC International Pty. Ltd for the Silkboard – HBR Layout section and a Rs. 6.26 crore contract to a consortium of AECOM India – Consulting Engineers Group (CEG) for the HBR Layout – Airport section.
Financial bids for Phase 2A's construction are still yet to be opened (technical bids were opened in March to reveal 9 bidders for two packages), while the last date to submit bids for Phase 2B's construction was recently moved to October 16. BMRCL in fact also extended the construction periods from 27 months to 30 months for Package A (KR Puram – Kempapura), and from 24 months to 27 months for Packages B and C (Kempapura – Bagalur Cross and Bagalur Cross – Airport).
For more updates, check out the Bangalore section of The Metro Rail Guy!
– TMRG