The updated website of the Asian Development Bank (ADB) reveals many interesting design and civil construction details on Bangalore Metro's proposed Line-5 (Blue Line) which will link Bengaluru's Kempegowda International Airport to KR Puram Station as part of the 37 km Phase 2B with 17 stations.
Bangalore Metro Rail Corporation Ltd (BMRCL) has been in talks with ADB for a USD $500 million (approx. Rs. 3,760 crore) loan since 2018 to finance the construction of its new 56 km Line-5 (Silkboard – Bengaluru Airport) which will be developed in parallel in Phase 2A (Silkboard – KR Puram) with 13 stations.
ADB's advance contracting notice posted in October 2019 had earlier revealed both stations at the airport, Sky Garden and KIA Terminals, will be built at-grade. Per ADB's updated site, KIA Terminals Station will be now be partially underground.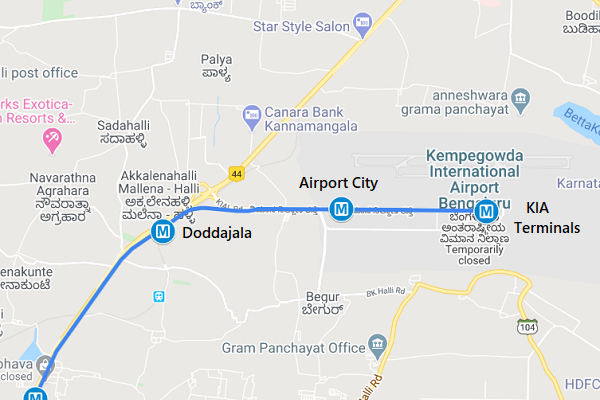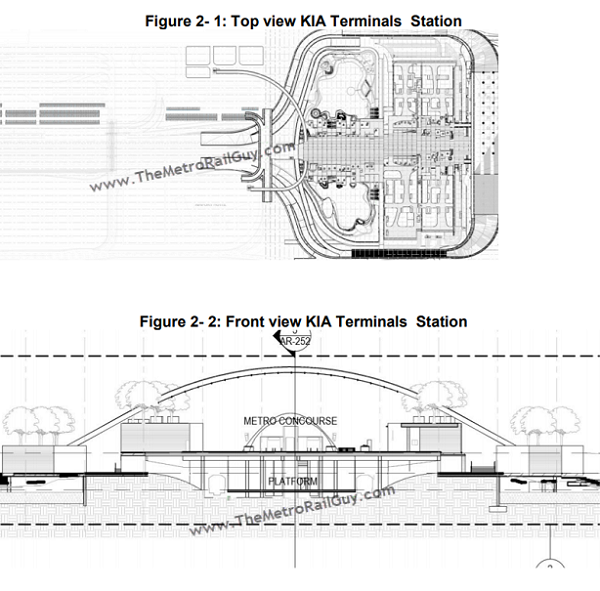 Design Details
Note: Italics text is my commentary and bolded text is my emphasis
• Design Speed – The maximum sectional design speed will be 90 km/h. Simulation studies of alignment, vertical profile and station locations will be used to determine the applied cant, and length of transition in relation to normal speeds at the different locations to minimize wear on rails on curves.
• A 300 m long section near the Yelahanka Air Force Station will be constructed underground through a cut and cover section. This was reported back in August 2017 and is nothing new.
• A new train maintenance depot is planned to be built near Doddajala Station, right next to the Devanahalli Toll Plaza near the trumpet interchange at the airport's entrance.
• There is a proposal for switch-over of Baiyappanahalli depot from E-W corridor to ORR corridor by remodelling it. This also proposed to augment stabling capacity at Baiyappanahalli depot from the existing 16 lines to 42 lines to cater to complete operational needs of Phase 2A ORR line and partial requirement of Phase 2B Airport line. Considering the augmentation plan at Baiyappanahalli, the construction of the Airport depot facility is proposed in two phases. In the first phase 12 stabling lines will be constructed and a combined shed with 4 inspection lines and 2 repair lines and pit wheel lathe PWL line by the year 2023. In the second phase, two more repair lines and test track of 750 m length shall be constructed. The balance O&M requirement for this section will be supplemented by the facility at Baiyappanahalli depot.
• A linking line starts from the existing ramp of phase-2 Reach-1 extension at Baiyappanahalli as 'Y' junction after crossing railway line connects the proposed Airport line at ORR after the flyover. Two pocket tracks of 250m (near Yelahanka station) and 200m (between Veeranapalya and Kempapura stations) length are planned for turn back, emergency stabling facilities and operational convenience.
• Horizontal Alignment (view map) – The proposed metro alignment starts after Jyothipuram station of Phase 2 (R1- Extension) as an extended corridor of Phase 2A (Central Silk Board to KR Puram), then it turns right and follows the ORR on the left side of existing flyover and joins ORR median at Kasturinagar. Further alignment will generally follow median of the ORR up to Kempapura station. After Kempapura station, the alignment takes right turn to enter Hebbal bus depot area where Hebbal station is located and reaches NH-44 before Kodigehalli station and further continues till Doddajala on the 5m wide strip of land reserved for high speed rail
corridor between main road and service road on NH-44. Before Doddajala station, the alignment takes a right turn and moves parallel to railway line for a short length after crossing the railway line and takes a right turn to reach airport road median and continues along the road median up to KIAL boundary. After KIAL boundary, the alignment takes left turn and continues off road up to KIA terminal station. The road alignment is fairly straight without sharp curves and the metro alignment is planned with minimum radius of the horizontal curve as 127.50 m
• Vertical Alignment – Track supporting structures on elevated sections are to permit a vertical clearance of 5.50m above road level for movement of vehicular traffic. To meet this requirement with the box girder/ U-girder design and construction of an elevated pedestrian walkway below the viaduct, the rail level is planned to be generally 13.5 m above the road level. This will also permit construction of elevated pedestrian walkways and footbridges (connecting bridges) for platform interchange for commuters at stations below the viaduct. Between Yelahanka Station and Bagalur Cross Station a section of the alignment will be constructed underground in order not to interfere with the operations of the Yelahanka air force station. The construction will be a combination of closed and open boxes with a depth of 8.25 meter and a width of 10.5 meter length of the underground section will be 300 meter excluding ramps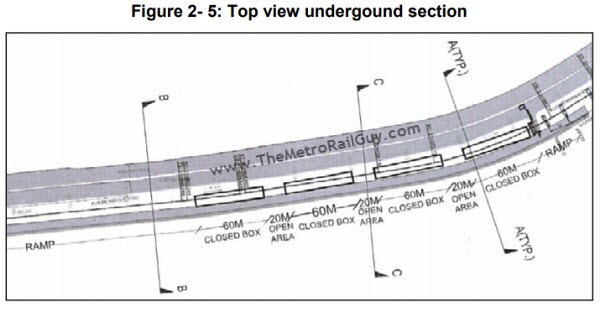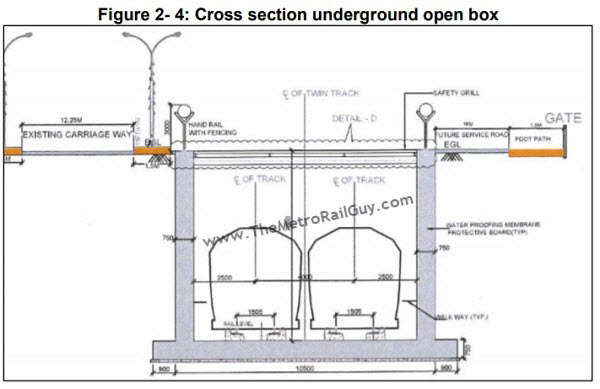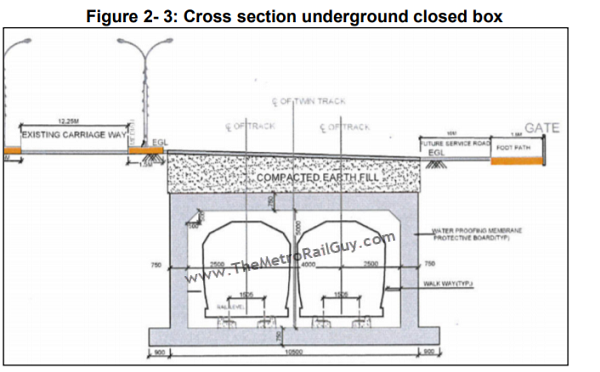 • The most widely used precast segmental box girder with post tensioning superstructure was selected for the viaduct of this project considering ease of construction and standardization of the formwork for wide span ranges. Earlier they were going to use U-girders (see example) to build the line.
• Total of 17 stations are proposed along the Phase 2B line and 7 stations out of 17 stations have been planned for commercial development for an area of about 1000 sqm at each station at concourse level. The area at ground level will be used for intermodal transit and parking.
• Provision of 6m wide service road has been proposed around the stations for integration with BMTC buses to ensure last mile connectivity for commuters. It is also proposed for construction of Metro Rail Depot Structures, site development works, internal roads and drainage works in the depot at Baiyappanahalli and near KIA.
• The line will be split up into 5 civil packages of which 4 (detailed below) will be designed and built by BMRCL's contractor, and 1 within the airport's premises by Bengaluru International Airport Limited (BIAL) which will integrate the line's corridor with its under construction Terminal 2's design.
A map of the line with stations marked can be viewed here.
Package P1
Scope: Construction of elevated structure (Viaduct & Stations) from KR Puram to Kempapura Cross Metro Station (includes 281 m. of Viaduct beyond Phase-2A and 650 m of link line connectivity to Baiyappanahalli), road widening, utility diversion and allied works.
Length: 11003m
Stations: 8 Nos. of elevated stations viz. Kasturi Nagar Station, Horamavu Station, HRBR Layout Station, Kalyan Nagar Station, HBR Layout Station, Nagawara Station, Veerannapalya Station and Kempapura Station
Package P2
Scope: Construction of elevated structure (Viaduct & Stations) from Kempapura Cross Metro Station to Bagalur Cross Station including 250 m length of pocket track, road widening, utility diversion and allied works.
Length: 11678m
Stations: 5 Nos. of elevated stations viz. Hebbal Station, Kodigehalli Station, Jakkur Cross Station, Yelahanka Station & Bagalur Cross Station.
Package P3
Scope: Construction of elevated structure (Viaduct & Stations) from Bagalur Cross Station to Kempegowda International Airport including road widening, Utility diversion and allied works.
Length: 15011m
Stations: 2 Nos. of elevated stations viz. Bettahalasuru Station and Doddajala Station
Package P4
Scope: Construction of Metro Rail Depot structures, site development works, internal roads & drainage works in Depot at Baiyappanahalli and near Kempegowda International Airport.
For more updates, check out the Bangalore section of The Metro Rail Guy!
– TMRG