December 31 Update: Translink has received a LOA contract from NHSRCL
December 21 Original Post: Translink Infrastructure Consultants today emerged as the lowest bidder to prepare general arrangement drawings (GADs) for developing Detailed Project Reports (DPRs) for 2365 km of new High-Speed Rail lines in India.
This contract relates to the following 4 proposed high speed rail lines for which various surveying works are currently underway:
NHSRCL invited bids for this low-value package in mid-March 2021 with a 240 day period of completion deadline. Technical bids were opened in June to reveal 25 bidders. During evaluation, 3 firms were disqualified – Dynamic Projects, aXYKno Capital Services and CE Testing Company.
Financial Bid Values (lowest 5)
| | |
| --- | --- |
| Firm | Bid (Rs. Lakhs) |
| Translink Infrastructure | 39.79 |
| Artefact Projects | 55.63 |
| Highway Engineering Magnitude Consortium | 73.77 |
| Arkitechno Consultants | 96.67 |
| Technical Consultancy Services | 98.70 |
Contract: NHSRCL/CO/CA/GAD/2021/06
Brief Scope: Preparation of General Arrangement Drawings (GADs) of Crossing Bridges over Rivers/Canals/Railways and Roads (Expressway, NH , SH and Major District Roads) and GADs of proposed Stations and Maintenance Depots for Detailed Project Report (DPR) of various HSR Corridors (About 2365 kms long)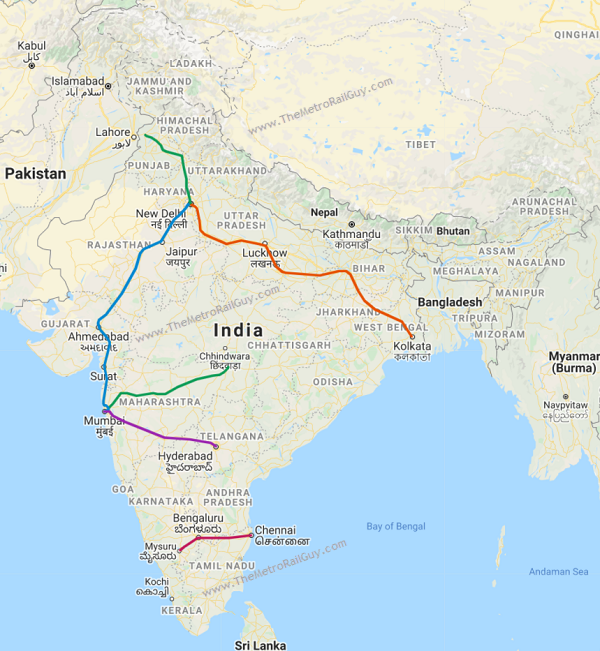 As shared earlier – this GAD-related package is significant as it's the very last of 7 packages for preparing DPRs of all new HSR lines. The other 6 tenders are related to surveys (data collection / utility identification), studies (traffic & ridership / SIA / EIA) and alignment design (LiDAR).
This is Translink's second win. Here's a list of all winners for GAD preparation of new HSR lines:
For more updates, check out the High Speed Rail section or my Home Page!
– TMRG