April 12, 2022 Update: DMRC has awarded KEC International and issued a LOA with a contract value of Rs. 131,89,71,585.02
January 6, 2022 Original Post: KEC International on Wednesday emerged as the lowest bidder for the 25KV Overhead Equipment (OHE) electrification system of Patna Metro's Phase 1 project.
Package PE-03 is the third electrification-related package of this 30.91 km network which feature two mostly-elevated lines with 24 stations including 2 interchanges at Khemni Chak and Patna Junction Railway Station.
Besides the OHE system, the scope includes setting up a 33 KV ring main unit, auxilliary sub station (ASS) and SCADA for both elevated & underground sections including the New ISBT Depot, under construction by Quality Buildcon.
DMRC invited bids for package PE-03 in July 2021 with an estimate of Rs. 144.65 crore and completion period of 36 months (3 years). Technical bids were opened in November to reveal 4 bidders. During evaluation, Salasar – STS' bid was found technically non-compliant.
Financial Bid Values
| | |
| --- | --- |
| Firm | Bid (Rs. Crore) |
| KEC International | 131.89 |
| Kalpataru Power Transmission | 135.07 |
| Siemens | 179.48 |
Scope: SITC of 25KV Overhead Equipment (OHE) System, Switching Posts, 33KV Ring mains, Auxiliary Sub stations for Elevated Sections and SCADA System for Underground and Elevated sections for Corridor 1 and 2 and ISBT Depot of Patna Metro Rail Project.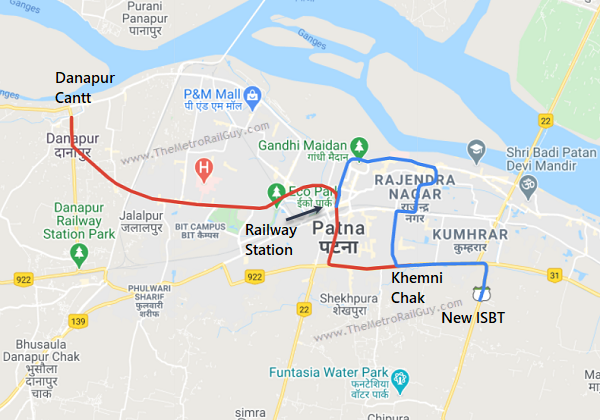 KEC's bid was well below DMRC's estimate, so they should receive a LOA in the coming weeks. When awarded, this will be KEC's second win in Patna. Here's a list of contractors for the other 2 electrification-related packages:
| | |
| --- | --- |
| Contract | Contractor |
| PE-01: Design & Commissioning of Receiving cum Traction (RSS + TSS) and Auxiliary Main Substation (ASS) including High Voltage Cabling from Grid Substation | KEC International |
| PE-02: Design & commissioning of Electrical and Mechanical (E&M) systems, Fire detection, Fire suppression system and DG sets of Corridor-1 and Corridor-2 Elevated stations and Depot. | Tuaman Engineering |
A list of all Patna Metro packages (civil & systems) and their status can be viewed here.
For more updates, check out the Patna section or my Home Page! Sign up for free instant email notifications on new posts over here. Like this post? See how you can support the site over here.
– TMRG