November 18 Update: Package PT-7 has been cancelled.
October 13 Update: DMRC has awarded Tuaman Engineering with a Rs. 82,65,96,226.38 (82.65 crore) contract for electrical & mechanical package PE-02.
August 18 Original Post:
Tuaman Engineering Ltd. and Jindal Steel & Power Ltd. (JSPL) earlier this month emerged as the lowest bidders for 2 contracts (PE02 & PT7) of the Patna Metro Phase 1 project after Delhi Metro Rail Corporation (DMRC) opened financial bids.
Package PE-02
This electrical & mechanical package is Patna Metro's 2nd systems-related package of Phase 1 which will feature two mostly-elevated lines with 24 stations including 2 interchanges at Khemni Chak and Patna Junction Railway Station. The first package (PE-01) related to electrification was won by KEC International in July.
Besides basic E&M equipment, its scope also includes commissioning fire detection, fire suppression equipment and diesel generators at 12 elevated stations and New ISBT Depot.
DMRC invited bids for package PE-02 in mid-December with an estimate of Rs 90.82 crore and completion period of 36 months (3 years). Technical bids were opened in February to reveal 9 bidders.
Financial Bid Values of Lowest 5 Technically-Qualified Bidders:
| | |
| --- | --- |
| Firm | Bid (Rs. Crore) |
| Tuaman Engineering | 82.65 |
| ETA Engineering | 92.62 |
| Sudhir Power Projects | 94.31 |
| Jakson | 97.45 |
| Blue Star | 97.83 |
Brief Scope: Design Verification, Detail Engineering, Supply, Installation, Testing & Commissioning of Electrical and Mechanical systems, Fire detection, Fire suppression system and DG sets of Corridor-1 and Corridor-2 Elevated stations and Depot of Patna Metro Rail Project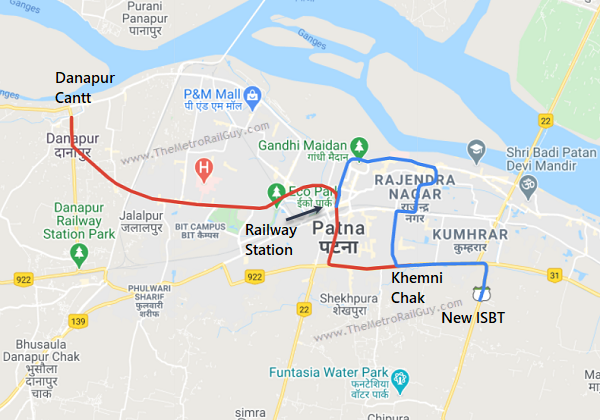 Package PT-7
This package for supplying 1200MT of class A 880 grade rails along with package PT-8 (won by KEC in July) for ballasted tracks are dedicated towards the New ISBT Depot which'll be used to stable and maintain trains on both lines of the 30.91 km Phase 1 project.
DMRC invited tenders for PT-07 in December 2020 with an estimate of Rs. 7.65 crore and completion deadline of 1 year. Jindal Steel & Power Ltd. (JSPL) was the only bidder when technical bids were opened in March, so it was fairly obvious they'd be the lowest bidder.
JSPL's Bid: 8.91 crore (opened August 6)
Brief Scope: Manufacturing and Supply of 1200 MT 90 UTS, UIC 60, 13 m, Class A 880 Grade Rails, IRS-T-12-2009 for New ISBT Patna Depot of Patna Metro Rail Project of PMRCL.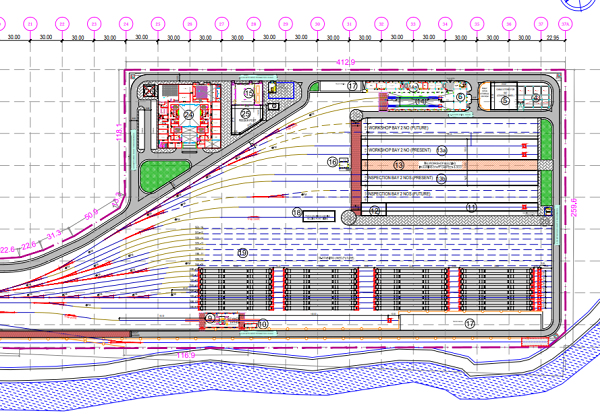 Tuaman's bid was well below DMRC's budgeted estimate, so a contract for PE-02 should be awarded in the coming weeks. JSPL's bid was 16.47% higher than DMRC's estimate, so I'm expecting them to be invited for negotiating the final contract value.
A list of all Patna Metro tenders and their status can be viewed here.
For more updates, check out the Patna Metro section or my Home Page!
– TMRG