Larsen & Toubro today emerged as the lowest bidder to design, manufacture and install tracks (Package T-3) of the 508.17 km Mumbai – Ahmedabad High Speed Rail (MAHSR Bullet Train) project.
Package T-3 in Gujarat is the second of three track related packages (T-1, T-2, T3) of this HSR line which will connect both cities through 12 stations at an estimated cost of Rs. 1.1 lakh crore (US $15 billion).
It spans a distance of 116.175 km from south of Vadodara city to Sabarmati Depot through civil packages C5 (awarded to L&T), C6 (under construction by L&T), C7 (awarded to IRCON-DRA) and C8 (awarded to SCC-VRS JV)
India's National High Speed Rail Corporation (NHSRCL) invited bids for it in August 2021 with an undisclosed estimate and 1959 day (5.36 year) completion period. Technical bids were opened in December 2021 to reveal 4 bidders.
Financial Bid Values (Note: final approximate value is a combination of all currencies)
| | |
| --- | --- |
| Firm | Price Bid |
| Larsen & Toubro (L&T) | INR 930,15,73,983 + JPY 34180846879 (Approx. Rs. 3069 cr) |
| NCC – Rahee Infratech JV | INR 1641,74,70,220 + JPY 27826910566 + USD 23300341 (Approx. Rs. 3560 cr) |
| IRCON International | INR 1496,86,81,729 + JPY 31499429969 + USD 24299243 (Approx. Rs. 3652 cr) |
| Tata Projects Ltd. (TPL) | Disqualified in Technical Bid Evaluation |
Tender: MAHSR-T-3
Brief Scope: Design, Supply and Construction of Track and Track related Works including Testing and Commissioning on Design-Build Lump Sum Price basis for Double Line High Speed Railway between Vadodara (MAHSR Km. 393.700) and Sabarmati Depot and Workshop (MAHSR Km. 509.875) in the State of Gujarat for the Project for Construction of Mumbai-Ahmedabad High Speed Rail.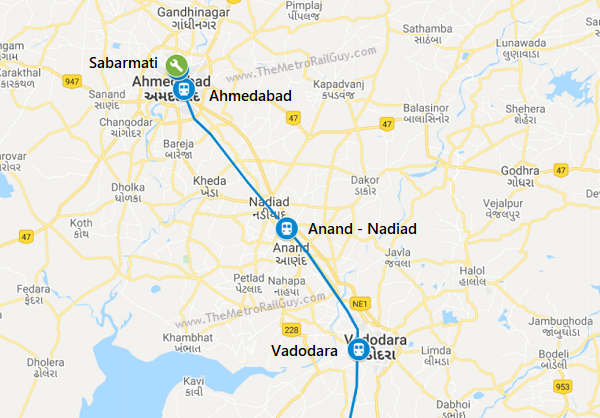 As shared earlier, a special slab track system will be utilized for the Bullet Train project instead of a conventional ballasted track system found in main-line railway lines. NHSRCL has a dedicated page for this with information on its economics and dynamics.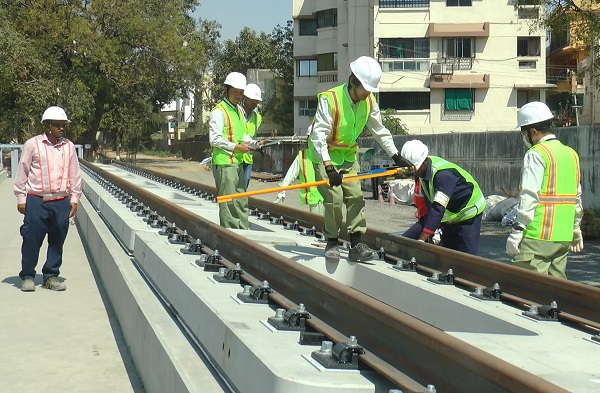 Without NHSRCL's estimate, I can't provide an assessment of how L&T's bid is placed. We'll have to wait and see how this plays out.
Here's the scope and status of the Mumbai – Ahmedabad Bullet Train's 3 track-work packages:
| | |
| --- | --- |
| Package | Status |
| T-1 (Maharashtra): Design, Supply & Construction of Track & Track related works between HSR station at BKC/ Mumbai and Zaroli Village on MH/GJ border (156.855 km) | Tender Notice Pending |
| T-2 (Gujarat): Design, Supply & Construction of Track and Track related works between Zaroli Village and Vadodara (237.10 km) | Awarded to IRCON |
| T-3 (Gujarat): Design, Supply & Construction of Track and Track related works between Vadodara and Sabarmati Depot and workshops (114.60 km) | L&T is lowest bidder |
A list of all bullet train civil and system packages and their status can be viewed here. NHSRCL this week posted a fantastic construction update video which can be viewed here. It's worth a watch.
For more updates, check out the High Speed Rail section or my Home Page! Sign up for free instant email notifications on new posts over here. Like this post? See how you can get early-access to updates and support the site over here.
– TMRG