India's National National High Speed Rail Corporation Ltd. (NHSRCL) on Friday awarded Larsen & Toubro with a Rs. 2460.88 crore contract to construct the 8.198 km package C-5 of the 508.17 km Mumbai – Ahmedabad High Speed Rail (MAHSR Bullet Train project).
Elevated package C5 connects chainage KM 393.700 and KM 401.898 of the main-line within Vadodara city and is the second shortest of 5 packages within Gujarat state.
NHSRCL had invited bids for its construction in June 2021 with a completion period / deadline of 1490 days (4 years) and unknown estimate. Technical bids were opened in October to reveal 3 bidders, and L&T emerged as the lowest bidder when financial bids were opened in December 2021.
IFB Number: Package No. MAHSR-C-5
Brief Scope: Design and Construction of Civil and Buildings Works including Testing and Commissioning on Design Build Lump Sum Price Basis for Double Line High Speed Railway involving Vadodara Station, Confirmation Car Base, Viaducts & Bridges, Crossing Bridges and Associated works between MAHSR Km. 393.700 and MAHSR Km. 401.898 in the State of Gujarat for the Project for Construction of Mumbai-Ahmedabad High Speed Rail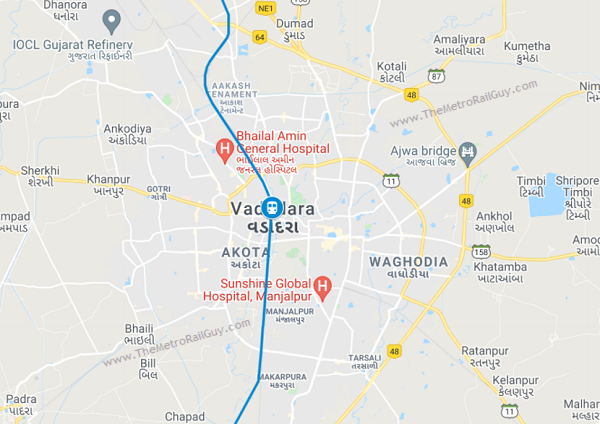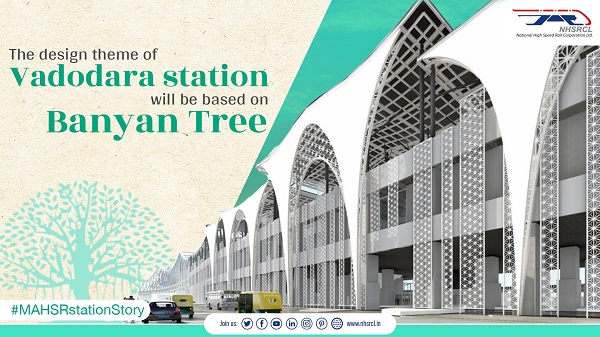 This is L&T's third and smallest win, and they'll now be responsible for constructing 333.87 km of the main-line (C4 + C5 + C6) all the way from the Maharashtra – Gujarat border to Ahmedabad city's south-side.
I expect basic pre-construction work for C5 to begin in February and full-fledged construction work in mid-2022.
With this development, here's a status of each civil package of the bullet train project. Package C8 has still not been awarded despite financial bids getting opened in April 2021. I'm not sure what the hold-up is. If someone is aware, drop a comment below as I'm super curious.
This table is best viewed on a desktop device.
| | |
| --- | --- |
| Package & Scope | Status |
| C1: 1.028 km Underground Station at BKC, Mumbai | Bids Invited in November 2019; Current Opening Date: April 7, 2022 |
| C2: 20.377 km underground tunnel between BKC Station to Shilphata, Thane | Bids Re-invited in November 2021; Current Opening Date: March 3, 2022 |
| C3: 135.450 km elevated line between Shilphata, Thane and Zaroli Village (MH/GJ Border) | Tender Notice Pending |
| C4: 237.1 km elevated line between Zaroli Village (MH/GJ Border) and Vadodara | Under Construction by Larsen & Toubro |
| C5: 8.198 km elevated viaduct and station within Vadodara | Awarded to Larsen & Toubro (this post!) |
| C6: 87.569 km elevated viaduct between Vadodara and Ahmedabad | Under Construction by Larsen & Toubro |
| C7: 18.133 km elevated viaduct and station within Ahmedabad | IRCON – DRA JV awarded in November 2021 |
| C8: 2.126 km viaduct, building works at Sabarmati Depot | SCC – VRS JV is lowest bidder |
A list of all bullet train civil & system packages and their status can be viewed here.
For more updates, check out the High Speed Rail section or my Home Page! Sign up for free instant email notifications on new posts over here. Like this post? See how you can support the site over here.
– TMRG