April 12, 2022 Update: DMRC has issued contract LOA to Siemens with a value of Rs. 19,56,48,830.28
April 8, 2022 Original Post: Siemens Ltd. on Wednesday emerged as the lowest bidder for the the 25 kV AC OHE traction contract of the 38.235 km Magenta Line's new 2.03 km underground extension between Janakpuri West and Krishna Park Extension.
Alstom Transport had originally won this tender of the 65.1 km Delhi Metro Phase 4 project in June 2021, but their bid was rejected as it was substantially higher than the Delhi Metro Rail Corporation (DMRC)'s estimate.
DMRC shortly re-invited invited tenders under DE-05R with an estimate of Rs. 22,75,00,000 and 600 day (1.64 year) completion deadline. Technical bids were opened in April to reveal 12 bidders.
Financial Bid Values (Lowest 5)
| | |
| --- | --- |
| Firm | Bid (Rs. Crore) |
| Siemens | 19.56 |
| Kalpataru Power | 20.29 |
| Shalaka-Infratech | 20.41 |
| Vikran Engineering | 20.49 |
| KEC International | 20.67 |
Note: Alstom's financial bid couldn't be opened as it was not properly submitted.
Package: DE-05R
Brief Scope: Design, Detail Engineering, Manufacture, SITC of 25 KV AC Traction (RIGID OHE), 33KV ASS, Associated Cabling and SCADA Systems for Krishna Park Underground Station of Janakpuri west to R. K Ashram corridor (Extn. of Line-8) of Phase-IV Delhi MRTS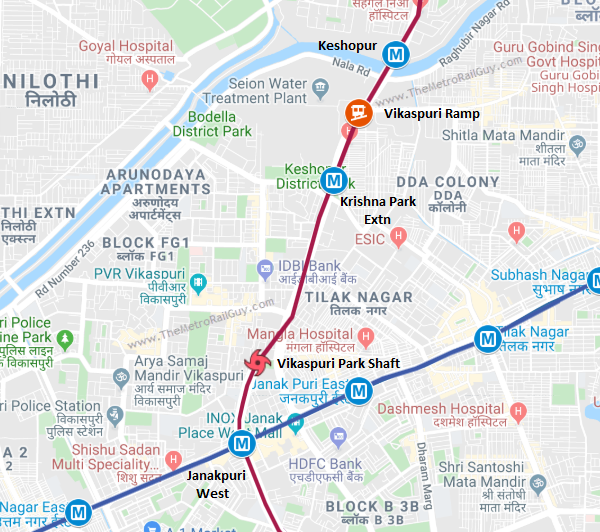 Siemens' bid of Rs. 19.56 crore was well below DMRC's estimate of Rs. 22.75 crore, so a contract should be awarded in the coming weeks without a long financial evaluation period.
This new 2.03 km underground extension (DC-06) is under construction by HCC-VCCL JV. TBM Triveni completed tunneling the 1.4 km down-line tunnel in December 2021 and is currently building the up-line tunnel towards Krishna Park Extension Station.
A list of all Delhi Metro Phase 4 packages, their contractors and status can be viewed here.
For more updates, check out the Delhi Metro section or my Home Page! Sign up for free instant email notifications on new posts over here. Like this post? See how you can get early-access to updates and support the site over here.
– TMRG