14 firms and consortia have submitted 15 bids to Gujarat Metro Rail Corporation (GMRC) for the construction contracts of Surat Metro's 19.26 km elevated Line-2 connecting Bhesan – Saroli.
This line of the 40.35 km Surat Metro Phase 1 project consists of 2 packages: 10.559 km CS-5 (Bhesan – Adajan – Majura Gate) with 11 stations and 8.702 km Package CS-6 (Majura Gate – Saroli) with 7 stations.
GMRC invited tenders for both in January and February 2022 through separate loan deals signed with Agence Française de Développement (AFD) and KfW Bankengruppe.
L&T is the only bidder to have submitted bids for both packages. Many others (Eg. DRA Infracon, Ranjit Buildcon) have bid in JVs for one package and separately for another.
Package CS5
Estimated Cost: Rs. 870 crore
Technical Bids Opened: May 5, 2022
Bidders:
Ashoka Buildcon Ltd. (ABL)
DRA Infracon – RVNL JV
GR Infraprojects (GRIL)
Larsen & Toubro (L&T)
Ranjit Buildcon – Dilip Buildcon (RBL – DBL) JV
YFC Projects – KEC International JV
Scope: Construction of 10.559 Km Elevated Viaduct and 11 Nos. Stations (Excl. E&M, Architectural Finishing and Roofing) From Bheshan Dead End (Ch. -949.63 m) to Majura Gate Station (Ch. 9090m) including Viaduct Ramp to Depot Entry near Bheshan for Surat Metro Rail Project Phase – 1, Corridor-2 (Package 1)
The 11 elevated stations in this package will be built at Bhesan, Botanical Garden, Ugat Vaarigruh, Palanpur Road, LP Savani School, Performing Art Centre, Adajan Gam, Aquarium, Badri Narayan Temple and Athwa Chopati.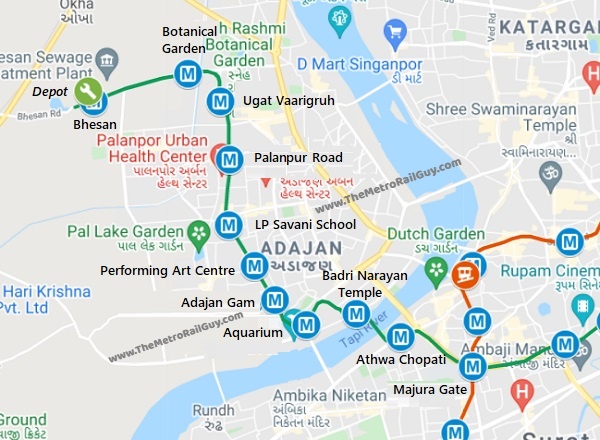 Package CS6
Estimated Cost: Rs. 591 crore
Technical Bids Opened: May 4, 2022
Bidders
Dineshchandra R Agrawal – Ashoka Buildcon Ltd. JV
Dilip Buildcon Ltd. (DBL)
Evrascon – Varindera Construction JV
HG Infra
KEC International
Larsen & Toubro (L&T)
Rail Vikas Nigam Ltd. (RVNL)
Ranjit Buildcon Ltd. (RBL)
YFC – MCL (JV)
Brief Scope: Construction of 8.702 kms elevated viaduct and 7 nos. stations (Excl. E&M, Architectural Finishing and Roofing) from Majura Gate (Ch. 9090 m) to Saroli Dead End (Ch. 17791.851 m) under Corridor-2 in connection with Surat Metro Rail Project Phase – 1
The 7 elevated stations en route will be built at Udhna Dawaja, Kamela Darwaja, Anjana Farm, Model Town, Magob, Bharat Cancer Hospital and Saroli.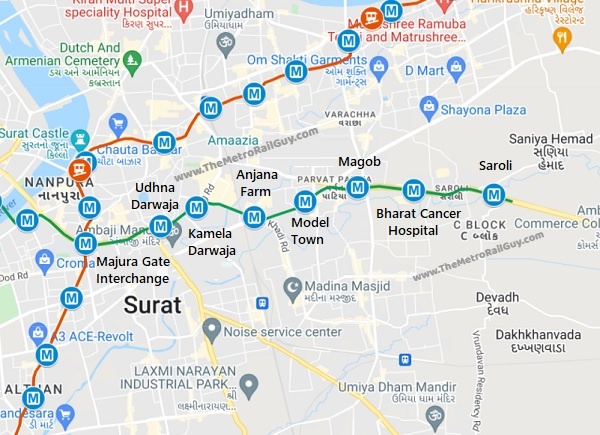 The bids have now been sent for technical bid evaluation which can take a couple months to complete. When that is done, the financial bids of the technically qualified bidders will be opened to reveal who's the lowest bidder and most likely contractor for each.
With this development, technical bids for all 6 civil packages of the main-line have been opened. 3 of those (CS1 and underground CS2 & CS3) are under construction.
Barring bidding issues, the entire Phase 1 project should be under construction by the end of the year. A list of all Phase 1 packages and their contractors can be viewed here.
For more updates, check out the Surat section or my Home Page! Sign up for free instant email notifications on new posts over here. Like this post? See how you can get early-access to updates and support the site over here.
– TMRG