Bangalore Metro Rail Corporation Ltd. (BMRCL)'s updated website indicates Blue Star has been awarded two significant system contracts for Bangalore Metro Phase 2 project's 21.386 km Pink Line (Reach 6).
Blue Star in May was first awarded a electrical and mechanical (E&M) system contract for the 7.501 km elevated section (Dairy Circle Ramp – Kalena Agrahara) and for a portion of the 13.885 km underground section (Dairy Circle Ramp – Nagawara).
Following that another contract was awarded in June for the underground section's tunnel ventilation system (TVS) and environmental control system (ECS).
If someone has bid values for either contract's tender, then leave a comment below or shoot me a message via the Contact page. I'd like to add it in here for record keeping.
E&M Works
Bids Invited: September 2021
Award Date: 25/05/2022
Contract Value: Rs. 1,868,860,466.56 (Rs. 186.88 crore)
Contract: E&M-4/UG & Elev/Ph-II
Brief Scope: Electrical and Mechanical (E&M) Works including Hydraulics, Fire Safety Systems, UPS & DG Sets for five Underground Stations, associated tunnel sections & five Elevated Stations in Reach-6 of Bangalore Metro Rail Project- Phase-II.
TVS, ECS & SCADA Works
Bids Invited: August 2021
Award Date: 02/06/2022
Contract Value: Rs. 2,028,041,732.40 (Rs. 202.80 crore)
Contract: ECTVS – 01
Brief Scope: Design Verification & Validation, Supply, Installation, Testing & Commissioning including Operations & Maintenance of TVS, ECS & SCADA Works of 6 Underground Stations and associated Tunnel Sections in Reach-6 under Phase-II during the DLP period of Two (02) Years and Operation & CAMC for Five (05) Years beyond DLP
This under construction line will connect Kalena Agaraha (formerly Gottigere) – Nagawara via 18 stations. Its construction is being carried out via 5 civil packages – 1 elevated and 4 underground.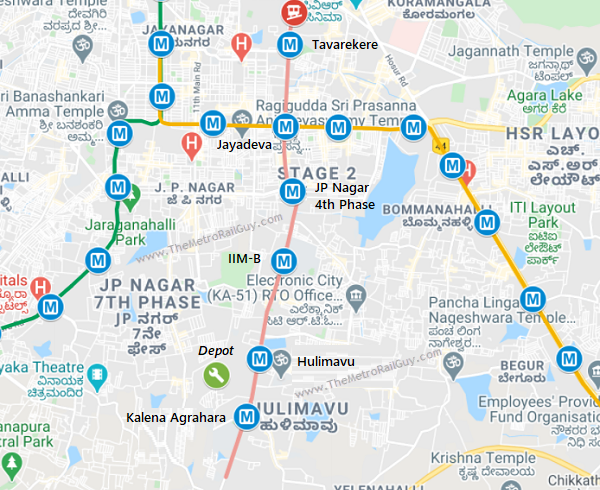 A tender notice is still pending for the line's rolling stock contract – the most significant and capital intensive systems contract. BMRCL intends to procure 96 coaches for the Pink Line, along with 96 for Phase 2A (ORR Line) and 126 for Phase 2B (Airport Line) – for a grand total of 318 coaches financed by Japan International Cooperation Agency (JICA).
For more updates, check out the Bangalore section or my Home Page! Sign up for free instant email notifications on new posts over here. Like this post? See how you can get early-access to updates and support the site over here.
– TMRG