3 civil construction firms last week submitted bids for 3.5 km Package DC-01A (Vikaspuri Ramp – Mangolpuri) of Delhi Metro Magenta Line's 28.92 km Janakpuri West – RK Ashram extension.
This elevated section with 4 stations was originally a part of the Delhi Metro Phase 4 project's 12.375 km Package DC-01 connecting Vikaspuri Ramp and Haiderpur-Badli Mor Station via 10 stations.
Delhi Metro Rail Corporation (DMRC) had awarded its construction contract in November 2019 to China Civil Engineering Construction Corporation – KEC International (CCECC – KEC) JV with a deadline of 30 months.
Construction work was launched in December 2019 wherever a clear right-of-way was available, but portions of the Vikaspuri Ramp – Mangolpuri section were held up for years due to pending permission approvals to cut trees enroute.
After negotiations between CCECC – KEC and DMRC, this section was offloaded from DC-01's scope. DMRC carved it into a separate package DC-01A and invited tenders for its construction in September with a 24 month deadline and Rs. 398.63 crore estimate.
Bidders
H.G. Infra Engineering Ltd.
KEC International Ltd.
Sam India Builtwell Pvt. Ltd.
Brief Scope: Part Design and Construction of Elevated Viaduct and four Elevated Stations viz. Keshopur, Paschim Vihar, Peeragarhi & Mangolpuri (Excluding Architectural Finishing works of stations, Steel FOB & PEB works of stations) from P2 (excl.) to PP88 (excl.) [Chainage 3118.108 mt. to 6080.447 mt.] and from P103 (excl.) to Mangolpuri Station (incl.) [Chainage
6462.547 mt. to 7012.051 mt.] of Janakpuri West to R.K. Ashram Corridor (Extn. of Line-8) of Phase- IV of Delhi MRTS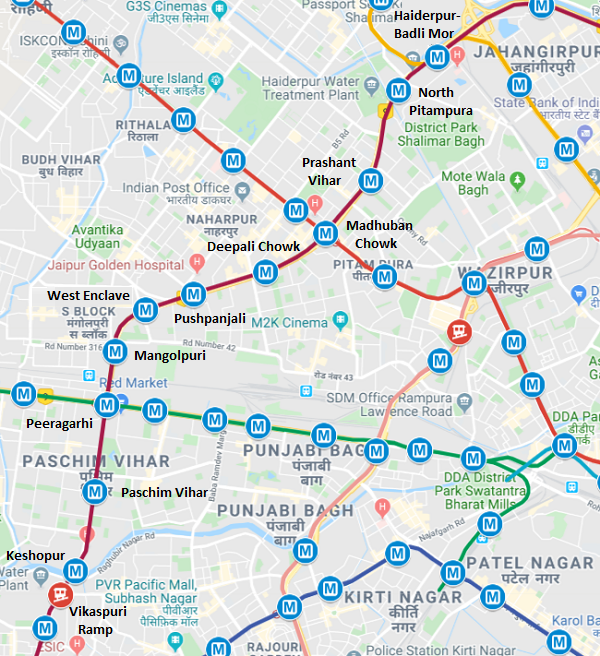 The bids have now been sent for technical bid evaluation which can take a couple months to complete. When that is done, the financial bids of the technically qualified bidders will be opened to reveal who's the lowest bidder and most likely contractor.
With this, the Magenta Line now has 5 civil packages within Delhi's 65.1 km Phase 4 project. From south to north: 2.03 km underground DC-06, 3.5 km DC-01A, 8.88 km DC-01, 7.47 km DC-03R, and 7.46 km underground DC-05 – all of which are under construction.
A list of all Delhi Metro Phase 4 packages, their contractors and status can be viewed here.
For more updates, check out the Delhi Metro section or my Home Page! Sign up for free instant email notifications on new posts over here. Like this post? Get early-access to updates and support the site over here.
– TMRG