8 design and engineering firms have bid to prepare 3 detailed feasibility reports (DFR) for extending the 118.9 km Chennai Metro Phase 2 project by 93 kms to connect Kilambakkam, Parandur Airport and Avadi.
The city's Phase 2 project by Chennai Metro Rail Ltd (CMRL) currently consists of 3 under construction corridors: 45.8 km Line-3 (Madhavaram-Siruseri), 26.1 km Line-4 (Lighthouse – Poonamallee, and 47 km Line-5 (Madhavaram – Sholinganallur).
The project's ambitious new extension envisions the following extensions:
Line-3: Siruseri to Kilambakkam Bus Terminus via Kelambakkam (26 km)
Line-4: Poonamallee to Parandur Airport (50 km)
Line-5: Koyambedu to Avadi via Thirumangalam, Mugappair (17 km)
CMRL had invited bids for line's feasibility contract (3 packages) in September 2022 with a 120 day completion deadline. Technical bids were opened in October-end.
Package I Bidders (Line-4)
Aarvee Associates Engineering & Consultants Pvt. Ltd.
AECOM India Pvt. Ltd.
RINA Consultant S.P.A
Urban Mass Transit Company Ltd.
Package II Bidders (Line-5)
RITES Ltd.
L&T Infra Engineering Ltd.
Package III Bidders (Line-3)
Balaji Railroad Systems Pvt. Ltd.
Systra MVA Consulting (India) Ltd.
Tender No: CMRL/PLNG/632/1/2022-DFR-Extension of Phase II network – 2022
Brief Scope: Selection of Consultant for Preparation of Detailed Feasibility Study Report for Extension of Chennai Metro Rail Phase –II Corridors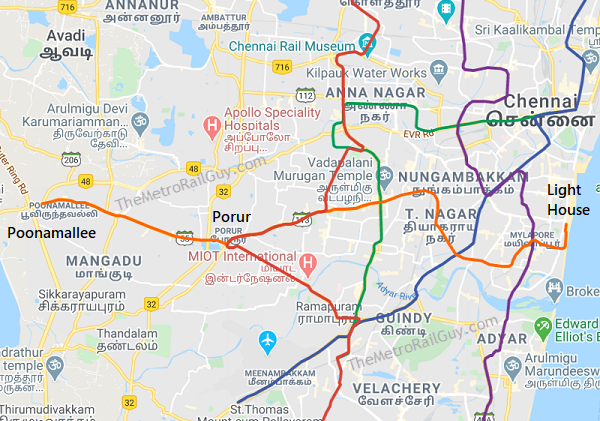 I hear financial bids were opened on Saturday. If someone has results for each package, then drop a comment below or send me a message using the Contact Page.
The selected consultant for each package will go through the city's Comprehensive Mobility Plan (CMP) and existing transport options to prepare a feasibility report, which I imagine would happen only around mid-2023.
This extension will be heavily cost intensive compared to the 9.051 km Phase 1 extension project (Washermanpet – Wimco Nagar), so with all the approvals required I see construction starting no sooner than 2027 at this time. By then there's a possibility of the project getting rebranded into Phase 3.
A couple months ago, I setup a new information page for Chennai's Parandur Airport which will be connected by Line-4 – check it out here. I'm hoping its extension from Poonamallee will have limited stops every 3-5 kms, similar to Bangalore Metro's Airport Line.
For more updates, check out the Chennai section or my Home Page! Sign up for free instant email notifications on new posts over here. Like this post? Get early-access to updates and support the site over here.
– TMRG