Four construction firms have submitted bids for the civil construction of Mumbai Metro Orange Line (Line-5)'s Kasheli Depot (Package CA-151) after Mumbai Metropolitan Region Development Authority (MMRDA) opened technical bids on Friday.
This metro train depot (car shed) is planned to be built on a 27.13 hectare land parcel (view on Google Maps) just south of Kasheli metro station under construction by Afcons Infrastructure in north-east Mumbai.
Besides administrative buildings, it'll consist of a 690m long test track, stabling shed (SBL) with 30 lines, workshop shed (WSL) area with 3 lines, and an inspection shed (IBL) area with 4 lines.
MMRDA had invited tenders for its construction in October 2022 with a Rs. 472.02 crore estimate and 36 month completion deadline.
Bidders
Montecarlo Ltd.
NCC Ltd.
Rithwik Projects Pvt. Ltd.
Vishwa Samudra Engineering Pvt. Ltd.
Package: CA-151
Brief Scope: Construction of Depot Infrastructures comprising Stabling Yard, Operation Control Centre and Administrative building, Maintenance and workshop buildings, Auxiliary substation, Finishing, Plumbing, Earthworks for land development, Compound wall, Road, Approach Bridge and Undeground Utility Duct Works, Drainage, Rain Water Harvesting, Staff Quarters etc. Complete Including Architectural Finishing works and PEB Works for Car Depot at Kasheli for Metro Line-5 of Mumbai Metro Rail Project of MMRDA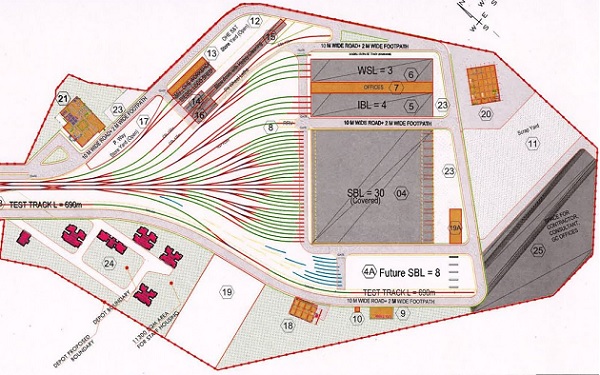 The bids have now been sent for technical evaluation which can take a couple months to complete. When that is done, the financial bids of the technically qualified bidders will be opened to reveal who's the lowest bidder and most likely contractor.
This line's depot was originally planned to be built in Kon Village, but MMRDA faced stiff resistance in acquiring land.
The new site is surrounded by mangroves, and MMRDA last week published a tender notice for appointing a consultant to help get approval for Forest Clearance. To me the sequencing of both these tenders (construction and FC approval) is off, but that's just how things works in certain quarters.
For more updates, check out the Mumbai section or my Home Page! Sign up for free instant email notifications on new posts over here. Like this post? Get early-access to updates and support the site over here.
– TMRG