April 25, 2023 Update: Per the comment section, it appears the contract was awarded in 2022 and not this month. MMRDA's tendering system indicates the Letter of Award (LOA) was April 6, 2023. It's possible their IT guy got lazy and didn't provide the correct date when the record was updated.
April 24 2023 Original Post:
NCC Ltd. on April 6 was awarded a contract with an undisclosed value by Mumbai Metropolitan Region Development Authority (MMRDA) for 5.868 km Package C102's pending work on Mumbai Metro's Line-2B (Yellow Line) between MTNL – Chembur stations.
MMRDA had originally awarded a contract for this section's construction through Kurla, comprising of 5 stations and an "iconic bridge" over Mithi River, to RCC Infra Ventures – MBZ JV in 2017. That contract was terminated in January 2020 due to poor progress on key performance indicators.
After 4 tender notices between February 2020 and August 2021, NCC was once again declared as the lowest bidder in October 2021 beating J Kumar (JKIL) and Tata Projects Ltd. (TPL) for its work with a 36 month completion deadline.
NCC's financial bid at Rs. 791.15 crore was way higher (24.45%) than MMRDA's 635.71 crore estimate which led to 18 months of negotiations – a criminally long duration that I haven't witnessed in the past.
If someone reading this is aware of the contract's final value, then leave a comment below or shoot me a message via the Contact page. I'd like to add it in here for record keeping. Financial bids submitted by NCC, JKIL and TPL in October 2021 can be viewed here.
Brief Scope of Package C102: Part Design and Construction of Balance Works of Package CA06, Elevated Viaduct and 5 Elevated Stations viz. MTNL Metro, S. G. Barve Marg, Kurla East, EEH and Chembur (excluding Architectural Finishing and Pre-Engineered Steel Roof Structure of Stations) from Chainage 46860.384m to Chainage 52729.312 of Line 2B [D.N Nagar-Mandale] of Mumbai Metro Rail Project of MMRDA.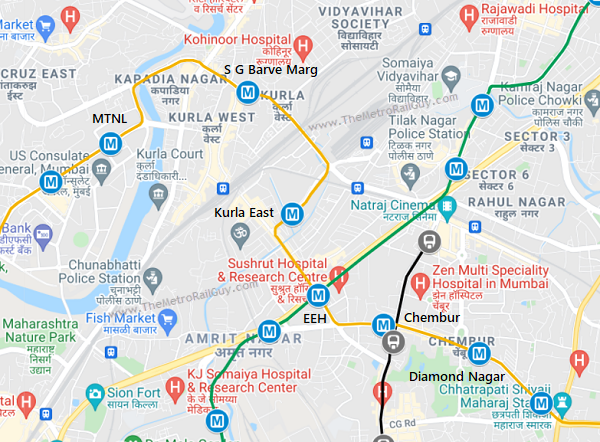 I'm glad this saga has finally come to an end. Let's now see what construction challenges show up as this won't be an easy section (it never is in Mumbai!) with numerous railway lines and highways to build across.
With recent developments on the systems (PEB, Electrification) side of things, I see Line-2B opening up no sooner than 2025. NCC's Diamond Garden – Mandale section supported by Mandale Depot will obviously be the first to open up, and the MTNL – Diamond Garden section no sooner than 2027.
For more updates, check out the Mumbai section or my Home Page! Sign up for free instant email notifications on new posts over here. Like this post? Get early-access to updates and support the site over here.
– TMRG
Hat-tip: @marinebharat and @aryanbagade07 on Twitter