Five firms have submitted bids to supply and install ballastless tracks on Mumbai Metro's 11.38 km Line-9 which will connect Dahisar East and Mira Bhayandar through 8 stations.
Standard gauge tracks from this contract (Package CA-167) will be installed at the northern leg of the city's new 31.05 km Red Line which will eventually connect Mira Bhayandar – Dahisar East – Andheri East – CSIA Terminal 2 through 23 stations.
This elevated section is under construction by J Kumar Infraprojects (JKIL) via civil Package CA-48 since March 2020. The first U-girder to form Line-9's viaduct was launched in April 2021.
Mumbai Metropolitan Region Development Authority (MMRDA) had invited bids for the track-work contract in April 2023 with a Rs. 88.28 crore estimate and 1.5 year installation deadline. Technical bids were opened today.
Bidders
Apurvakriti Infrastructure Pvt. Ltd.
ITD Cementation India Ltd.
Paras Railtech Pvt. Ltd.
Rahee Infratech Ltd.
Texmaco Rail and Engineering Ltd.
Brief Scope: Design construction manufacturing supply installation testing and commissioning of ballastless trackwork in mainline from Dahisar East Station to Bhayandar including third track side track and dead end at Dahisar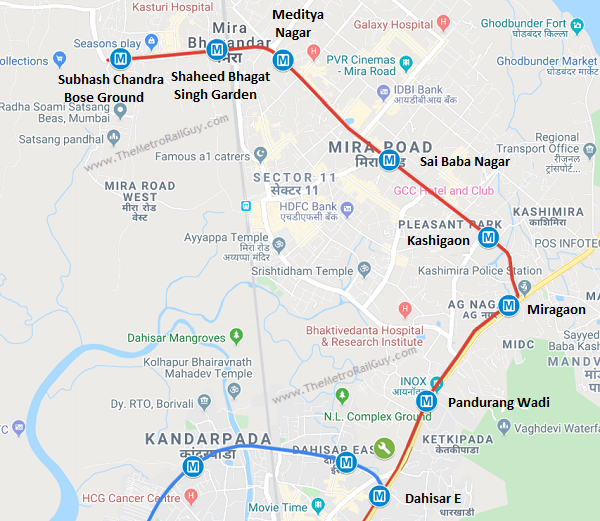 The bids have now been sent for technical evaluation which can take a couple months to complete. When that is done, the financial bids of the technically qualified bidders will be opened to reveal who's the lowest bidder and most likely track-work contractor.
Back in March and April, the same 5 firms had bid for Green Line / Line-4's track-work (Package CA-161) and for Orange Line / Line-5A's track-work (Package CA-166).
Due to space limitations at Charkop Depot, which is shared with Yellow Line, the Red Line currently operates with a less than desirable frequency and headways of 7.5 to 10 minutes between successive trains. For the entire Red Line to succeed, a new depot is required and a tender for its civil construction in Mira Bhayandar – Uttan area is still pending due to land acquisition difficulties.
For more updates, check out the Mumbai section or my Home Page! Sign up for free instant email notifications on new posts over here. Like this post? Get early-access to updates and support the site over here.
– TMRG