Mavala, the largest tunnel boring machine to ever be deployed in India, on Tuesday made its second and final breakthrough at Priyadarshini Park Ramp for 29.2 km Mumbai Coastal Road Project (MCRP)'s Package 4.
The machine had actually pierced through the diaphragm wall on Monday. The wall was then strangely resealed with shotcrete for the "official" breakthrough on Tuesday just so that the local state government's top ministers could witness the event. This is similar to TBM S52's absurd breakthrough in Lucknow back in 2017.
Larsen & Toubro had originally commissioned this 80m long 12.19m diameter CRCHI slurry machine (DZ636) in January 2021 to build the first of two 2,070m tunnels for Package 4 between Priyadarshini Park Launch Ramp and Girgaum Chowpatty.
The TBM operated 75 meters below Malabar Hill and bored through complex geological conditions that include basalt, breccia and shale. The first breakthrough for the southbound tunnel was recorded in January 2022 – after roughly 12 months of tunneling.
The machine was then turned-around within the receiving shaft and recommissioned to build the north-bound tunnel towards Priyadarshni Park in March 2022. In August, L&T claimed a world record of boring 456.72 metres in a single month (July) and was looking to record the final breakthrough in December 2022.
Things went awry though. Details are sketchy to me, but the machine limped during its final 200 meter journey over the course of 6 months, requiring frequent interventions and replacements to its cutting discs.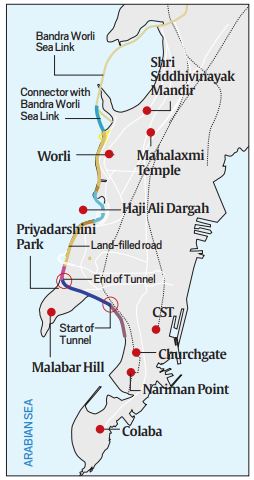 Each tunnel of this section (MCRP's 3.93 km Package-4) is 12 meters wide and consists of two lanes and one emergency lane.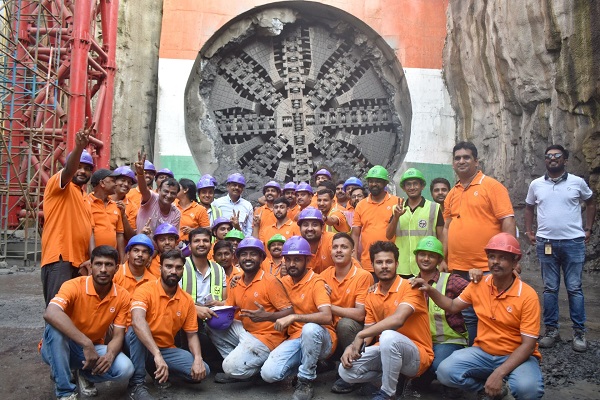 In the images above, you can see shotcrete on the edges which was used to re-seal the diaphragm wall. Also visible is Freight Wings' equipment – ready to retrieve the machine's parts up and out of the ramp.
Short Breakthrough Video:
For more updates, check out the Expressway section, tunnel section or my Home Page! Sign up for free instant email notifications on new posts over here. Like this post? Like this post? Get early-access to updates and support the site over here.
– TMRG