J Kumar Infraprojects on Monday started lowering parts of TBM S64B (Shalini) – the first tunnel boring machine for 23.622 km Delhi Metro Silver Line's Package DC-08 at Kishangarh Station's western-end.
This refurbished 6.61m diameter Terratec Earth Pressure Balance (EPB) machine will be the first of three machines to be commissioned by J Kumar for building twin tunnels on 65.1 km Delhi Metro Phase 4 project's 6.116 km Package DC-08 between Aerocity – Kishangarh.
Prior to this, J Kumar – CRTG JV had deployed it as Godavari-4 to build Mumbai Metro Line-3 UGC-05's tunnels between 2018-2020. Following extensive refurbishment, the machine passed factory acceptance tests (FAT) in April 2023 at J Kumar's yard in Mumbai's Chenna village on Ghodbunder Road.
Delhi Metro Rail Corporation (DMRC) had awarded J Kumar with Phase 4's Rs. 1611.74 crore contract for Package DC-08 in March 2022 with a 42 month deadline.
J Kumar's 6.116 km Aerocity – Kishangarh section is on the western-end of the Silver Line and comprises of twin tunnels, and 4 stations at Aerocity, Mahipalpur, Vasant Kunj & Kishangarh from chainage (-) 760 mt. to 5356.285 mt.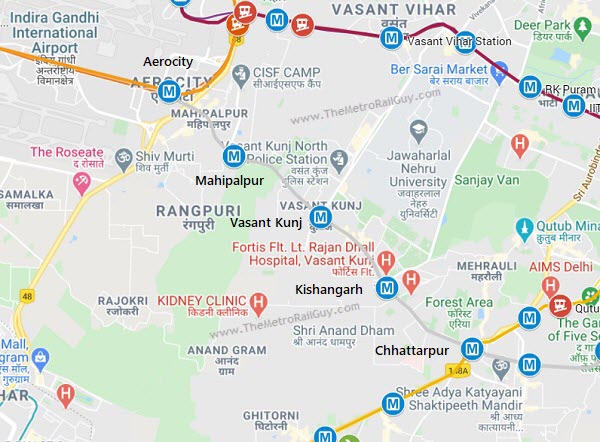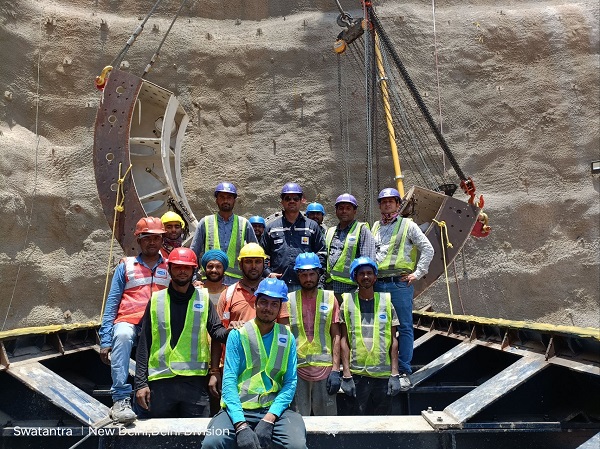 The rest of S64B's shields and cutterhead will be lowered in the coming days and assembled for commissioning towards Vasant Kunj Station, which I expect should happen in early July.
Besides this machine, J Kumar will deploy another refurbished machine (S63B from Mumbai's Line-3) and a brand new machine whose serial number I'm currently unaware of. Both will be launched from Aerocity Station – one westward towards the permanent TBM shaft and one eastward to Mahipalpur.
Speaking of Mahipalpur, here's a recent snap showing the progress of excavation:
For more updates, check out the Delhi Metro section or my Home Page! Sign up for free instant email notifications on new posts over here. Like this post? Get early-access to all updates and support the site over here.
– TMRG