That's a wrap! Shanghai Tunnel Engineering Co. Ltd. (STEC) today celebrated tunnel boring machine Sudarshan 4.4's second and final tunnel breakthrough at Sahibabad UP Ramp in Vaishali for the 82.15 km Delhi – Meerut RAPIDX (RRTS) project.
This exciting milestone marks the completion of tunneling works across not just 5.6 km Package 4 (Sahibabad UP Ramp – Anand Vihar – Ashok Nagar DN Ramp) with 8 breakthroughs in East Delhi-UP Border, but the entire semi high speed rail line.
Just last month, Afcons Infrastructure with its 3 Terratec machines had recorded their final of 6 breakthroughs for Package 8 in Meerut – see details & pics.
Parts of Sudarshan 4.4 – a 7.5m diameter Earth Pressure Balance (EPB) machine had arrived at Anand Vihar RAPIDX Station from China in May 2022.
It was commissioned in October 2022 to build the 2.093 km up-line tunnel from Anand Vihar Station's northern TBM Launch Shaft (chainage 12813.41) to Sahibabad UP Ramp (chainage 14907.00) located in Vaishali just south-west of Sahibabad RAPIDX Station. Along the way, it recorded its first breakthrough at a ventilation shaft in March 2023.
STEC was awarded a contentious contract for the project's 5.6 km Package 4 by National Capital Region Transport Corporation (NCRTC) in December 2020 to build four tunnels between New Ashok Nagar DN Ramp – Anand Vihar – Sahibabad UP Ramp.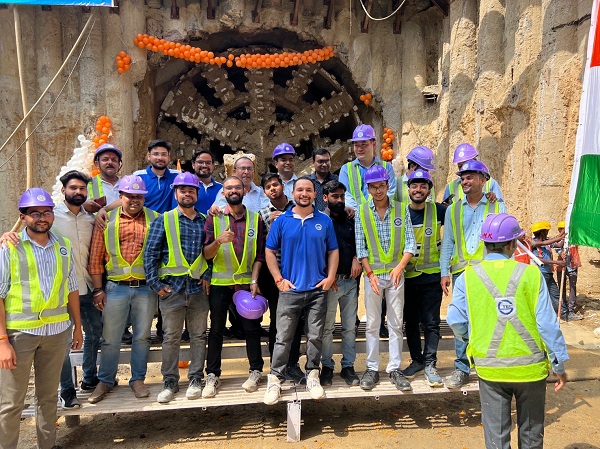 With this development, all 14 breakthroughs across the 82 km line have been recorded using 7 machines and roughly 80,000 precast tunnel segments.
The only tunneling work remaining is for cross-passages between parallel tunnels to aid with evacuation and maintenance work. A breakthrough for the first of 12-15 cross-passages was recorded in June 2023.
I see this underground section (Package 4) opening up for operations no sooner than Q4 2025 with the quantum of pending civil, systems, architectural finishing, testing and other activities to go.
The start of operations on the line's 17 km Priority Corridor (Duhai – Sahibabad) continues to be held up due to politics with the 2024 Lok Sabha Elections around the corner.
In other news, GRIL – Patel JV has been issued a Letter of Award (LoA) for Dibang Multipurpose Project Lot-4's contract in Arunachal Pradesh which includes construction of at least 17 tunnels. They were declared as the preferred bidder in March 2023 – see details.
For more updates, check out the RRTS section or my Home Page! Sign up for free instant email notifications on new posts over here. Like this post? Get early-access to updates and support the site over here.
– TMRG