Kochi Metro Rail Ltd (KMRL) on Friday published a tender notice inviting bids for the civil construction work (Package KBC3) of Kochi Metro's Phase 2 project.
This entirely elevated phase will feature a 11.2 km new elevated line, named Pink Line, with 11 stations connecting JLN Stadium – Kakkanad – Infopark (Smart City).
The scope of Package KBC3 includes construction of Phase 2's entire viaduct and 10 new stations between Palarivattom Junction and Infopark. The construction of entry/exit buildings and architectural finishing will be carried out via separate package(s).
Estimated Value: N/A
Contract Period: 600 days
Pre-Bid Meeting: 22 September at 11 am
Bid Submission Deadline: 25 October at 5 pm
Technical Bid Opening: 27 October at 3 pm
Brief Scope: Contract KBC3 Design and Construction of Elevated Viaduct and 10 Elevated Stations Excluding Architectural Finishes, Building Services, Link Bridges and Entry-Exit Structures of Phase II of Kochi Metro Rail Project from JLN Stadium to Infopark.
Pink Line's stations will come up at Jawaharlal Nehru Stadium (new station box next to Blue Line), Palarivattom Junction, Alinchuvadu (formerly Palarivattom Bypass), Chembumukku, Vazhakkala, Padamughal (formerly Kunnumpuram), Kakkanad Junction, Cochin SEZ (Special Economic Zone), Chittethukara, KINFRA Park (formerly Rajagiri), and InfoPark / Smart City (connected to Kochi Water Metro).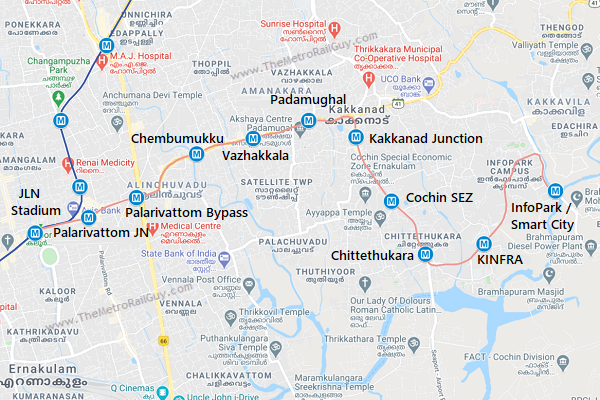 A 600 day (19.7 months or 1.64 years) deadline is extremely tight, so I'm curious to see who bids or if KMRC will extend the deadline after the pre-bid meeting. In other tier-2 or tier-3 cities where construction conditions are similarly favorable, the shortest period I've seen recently is 30 months (eg. Kanpur's Package KNPCC-07 or Agra's Package AGCC-06)
KMRL last week launched an interesting somewhat unique design competition for station architectural, interior and exterior finishing work with a submission deadline of October 10. Anyone can register and submit, and I'm interested to see what comes out of it.
A list of Kochi Metro Phase 2's tenders and their status/contractors can be viewed here.
For more updates, check out the Kochi section or my Home Page! Sign up for free instant email notifications on new posts over here. Like this post? Get early-access to updates and support the site over here.
– TMRG