After Indore last month, now it's Bhopal's turn! Madhya Pradesh Metro Rail Co Ltd (MPMRCL) on Monday morning received their first Alstom Movia train-set for the 27.9 km Bhopal Metro Phase 1 project at Subhash Nagar Depot.
The 3-coach train (serial TS-02) was designed at Alstom's engineering centre in Hyderabad and manufactured at their rolling stock facility in Savli, Gujarat. The train's 3 coaches were loaded on to trailers and dispatched to Bhopal on September 11.
This train-set is part of a larger 156 coach rolling stock and Communications Based Train Control (CBTC) signaling contract, combined with Indore Metro, which was awarded to Alstom Transport in July 2022. The Rs. 3248 crore contract has a 4.18 year deadline and includes 15 years of comprehensive maintenance for rolling stock and 7 years of maintenance for CBTC signaling.
Alstom had formally launched manufacturing activities in Savli in March 2023 and built the first-train, which was delivered to Indore last month, in a record time of 14.5 months from MPMRCL's Notice to Proceed.
Bhopal Metro's Subhash Nagar Depot, under construction by KEC – Sam JV (Package BH-06), will stable 27 train-sets to serve the under construction 14.99 km Purple Line (Karond Circle – AIIMS) and upcoming 12.88 km Blue Line (Bhadbhada Square – Ratnagiri Tiraha).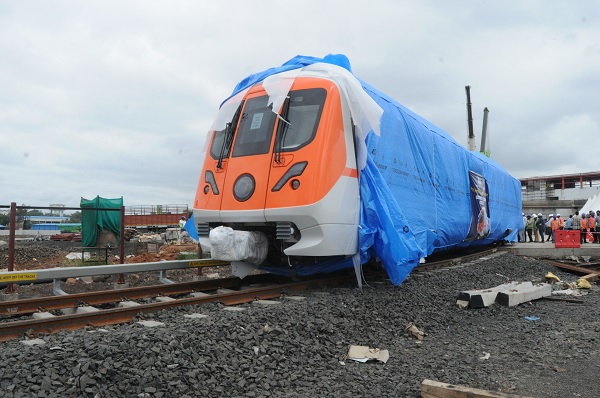 MPMRCL will operate their 3 coach Movia train-sets in formations of DMC+TC+DMC where DMC = Driving Motor Car and TC = Trailer Car. These modern light-weight trains have a top speed of 80 km/hour with a 50-passenger seating & 300 standing capacity per coach.
MPMRCL had unveiled a cool mock-up of a coach at Bhopal's Smart City Park last month to give locals an idea of how metro trains look like.
As shared in Indore Metro's post, the trains' base design is essentially similar to Kanpur and Agra metros' Movia trainsets with modifications to the color-scheme and addition of an additional light below the headlight.
In the coming days, MPMRCL will assemble all 3 coaches, conduct static tests, and then dynamic tests on the test track with an aim to launch trial runs by month-end on the main-line to Rani Kamlapati Railway Station, a distance of 3.6 km.
For more updates, check out the Bhopal section or my Home Page! Sign up for free instant email notifications on new posts over here. Like this post? See how you can get early-access to updates and support the site over here.
– TMRG