Kalpataru Projects International Ltd. (KPIL) – Gulermak JV was today declared as the lowest bidder to construct the underground section (Package KNPCC-11) of Kanpur Metro's 8.6 km Line-2 (Rawatpur – Jaurali).
Kanpur Metro Phase 1's Package KNPCC-11 will connect Agriculture Depot with Double Pullia Ramp via 3 underground stations at Rawatpur, Kakadeo and Double Pullia. I reckon this section with twin tunnels to be approximately 4.08 km long.
Uttar Pradesh Metro Rail Corporation (UPMRC) had invited bids for this contract in February 2023 with a Rs. 1025 crore estimate and 30 month deadline.
Technical bids were opened in July to reveal 9 bidders. During evaluation, DRA – Soma JV and Shanghai Tunnel Engineering Co (STEC)'s bids were found non-compliant to the tender conditions and were disqualified.
Financial Bid Values
| | |
| --- | --- |
| Firm | Bid (Rs. crore) |
| KPIL – Gulermak JV | 762 |
| Hindustan Construction Company (HCC) | 829 |
| Tata Projects Ltd. (TPL) | 895 |
| ITD Cementation India | 898 |
| J Kumar Infraprojects (JKIL) | 941 |
| Afcons – SAM India JV | 947 |
| Larsen & Toubro (L&T) | 990 |
*Note – Not that it matters, but ITD's bid might be Rs. 898 crores. I'm trying to this get this confirmed. Update: Confirmed and updated table above.
Brief Scope: Design and Construction of TBM Tunnel, Cut and Cover Tunnel, ramp after Double Pullia, ramps in Agriculture Depot for main line and depot connections and three underground metro stations (viz. Rawatpur, Kakadeo and Double Pullia) including Architectural finishes etc. on Corridor-2 of Kanpur MRTS Project at Kanpur, Uttar Pradesh, India india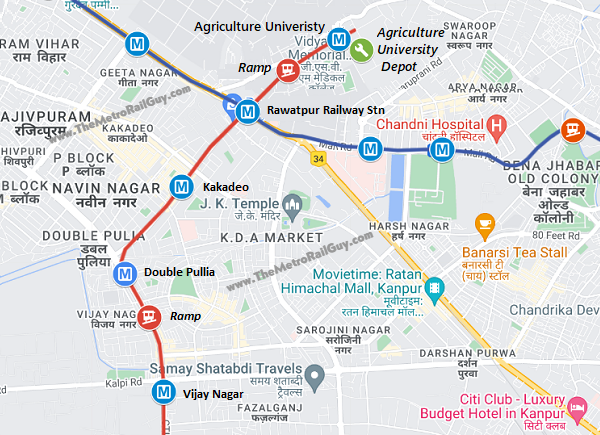 KPIL – Gulermak's bid of Rs. 762 crore was significantly below UPMRC's estimate of Rs. 1025 crore, so a contract should be awarded in the coming weeks without a long financial evaluation period.
This contract will be financed by the European Investment Bank (EIB) through a €650 million (approx. Rs. 5661 crore) loan approved in July 2020.
This is the 1st of 2 civil packages of the city's Line-2. The other package from Double Pullia Ramp to Jaurali will involve the construction of an elevated viaduct with 5 stations. A tender notice for its construction is pending.
Like Phase 1's other 2 underground sections on Line-1 (KNPCC-05 & KNPCC-06), UPMRC will likely require KPIL – Gulermak to use at least 2 tunnel boring machines (TBMs) for constructing 6 tunnels.
With Gulermak winning this, there's a good possibility that we might see them re-using their Terratec machines TBM Tatya (S92) and TBM Nana (S93) from Package KNPCC-05 (Permat Ramp – Nayaganj) where they each have just one final tunneling assignment left.
For more updates, check out the Kanpur section or my Home Page! Sign up for free instant email notifications on new posts over here. Like this post? Get early-access to updates and support the site over here.
– TMRG