PADECO – Mott MacDonald – Hill International – BARSYL consortium has been finalized to provide consultancy services for the 65.1 km Delhi Metro Phase 4 project.
This long-delayed advisory contract (DCS-1B) for Phase 4's Priority Corridors is valued at approximately Rs. 117.57 crore – a combination of INR 88.35 crore and JPY 463.3 million. It comes with a 45 month contract period in addition to a 6 months of defect liability period (DLP).
The consortium's selection by the Delhi Metro Rail Corporation (DMRC) was made on the 80:20 Quality and Cost Based Selection (QCBS) where 80% weightage was assigned to technical score and 20% to financial score.
Here's a copy of the contract finalization letter issued in mid-October:
Delhi Metro's under construction 65.1 km Phase 4 includes one new line (23.62 km Silver Line: Aerocity – Tughlakabad) and the extension of the Magenta Line (28.92 km Janakpuri West – R.K.Ashram) and Pink Line (12.58 km Mukundpur – Maujpur).
DMRC had invited Expression of Interest (EOI) applications for this contract in May 2021 with a 1620 day contractual period, received 6 applications in July 2021, and short-listed 3 bidders in March 2022.
A year later, DMRC issued a new tender notice with a 1530 day (4.19 years) contractual period and received 3 bids in July 2023 with lead bidders including Egis Rail, PADECO and SYSTRA.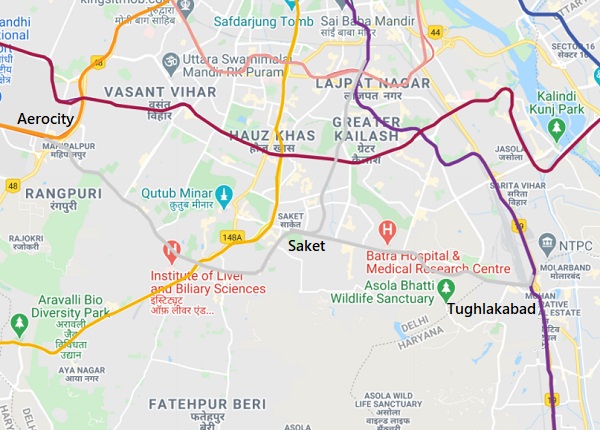 Phase 4 is running terribly behind schedule and I don't see it getting fully operational before mid-2026.
I'm curious to see what acronym the consultants come up with to identify themselves. Here are some details from the tender documents on the advisory team composition and work responsibilities:
Consultancy services shall be provided through expatriates and local experts. In certain areas, consultancy services shall be provided through local experts only.
Field of services shall be Project Planning, Programming and monitoring, Civil Engineering, Design & Structure, Quality assurance in construction, signalling, Telecommunication, Automatic Fare Collection System, Track, Ventilation, Air Conditioning, BMS, Rolling Stock and Safety, Health & Environment.
Entire consulting team shall be headed by a Team Leader. The general responsibility of Team Leader and Scope in other areas will be provided to the Shortlisted Consultants.
For more updates, check out the Delhi Metro section or my Home Page! Sign up for free instant email notifications on new posts over here. Like this post? Get early-access to updates and support the site over here.
– TMRG