Per a report in the Bangalore Mirror, the Bangalore Metro Rail Corporation has relocated the upcoming Central Silkboard Station of Phase 2A's 18.236 km Outer Ring Road line (Line-5 / Blue Line) from its original location, west of Hosur Road, to 300 meters east in HSR Layout.
This change in its location, originally finalized in 2017, will lead to an increase in train-interchange time, and overall commute time, for riders looking to travel and utilize Line-5 and the 19.14 km Line-3 (Yellow Line) that will connect RV Road with Bommasandra.
BMRCL's MD Ajay Seth identified difficulty in acquiring land as the main driver –
We had to change the design keeping in mind the operational difficulties. The original design required use to acquire large scale land parcels and that was not possible in the traffic-heavy junction.
As part of the design change, BMRCL now plans to build a foot overbridge (FOB) with travelators, like at airports, over Hosur Road to connect the concourse levels of both lines. This will also serve pedestrians on Hosur Road looking to cross over.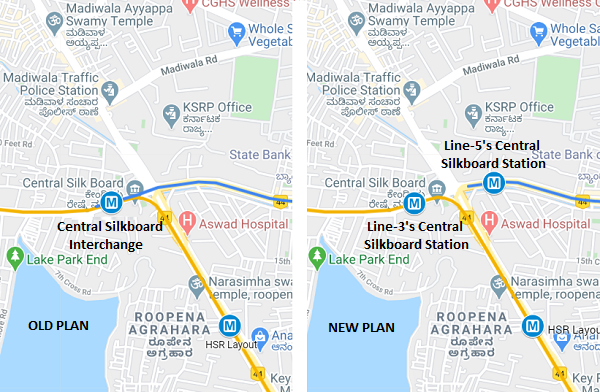 300 meters to interchange isn't ideal (Delhi's Kalkaji Stations' boxes are 250m apart) but the installation of travelators will definitely help alleviate some of the pain. If they throw in some funky art-work or lighting like this at Chicago's ORD Airport, then that can possibly turn it into a pleasant experience.
Now here's some food for thought. Planning and execution aren't BMRCL's forte. In fact generating non-fare box revenue isn't either. But if they plan and position the Silkboard Station a certain way, then that will unlock and free up Line-5 to possibly be routed in the future northward onto Hosur Road, run on a westward course and intersect with the other lines to form a circle through a combination of underground tunnels and elevated viaducts.
For example, it could intersect Line-4 (Pink Line) at Dairy Circle, Line-2 (Green Line) at Southend Circle, Line-1 (Purple Line) at Mysore Road, Line-2 (Green Line) at Yeshwanthpur Industry (Goraguntepalya) and then terminate at Hebbal which will be connected by this line as part of the 38 km airport extension of Phase 2B. A similar circle, with a tangential spoke, will be completed by Delhi Metro's Pink Line in the Phase 4 project.
The possibilities are endless, but it all depends on how the viaduct immeadiately west of Line-5's station for train-reversals is planned, if at all, and designed.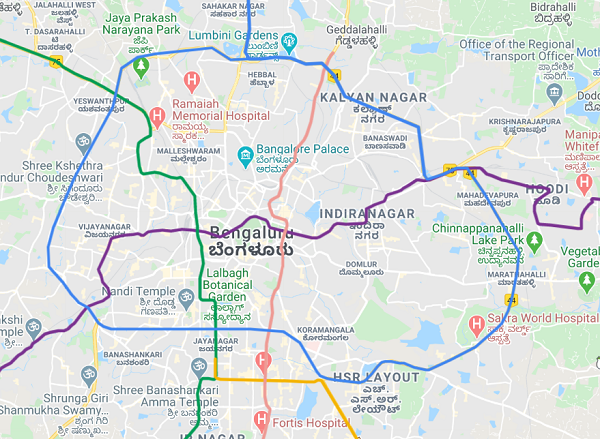 Feb 13 Update: So that little plan of mine can never be executed. Per the line's design, extracted from the tender docs linked by Selvav in the comments section, Line-5's station will literally be built adjacent to the Silkboard Flyover and its viaduct will cross over it to end up on the west side near Line-3's station. The design schematic doesn't indicate elevation changes, so it'll be interesting to see if the viaduct descends gradually or not. The optimistic part of me hopes it does – for a future ramp leading to an underground extension of the line. Only time will tell.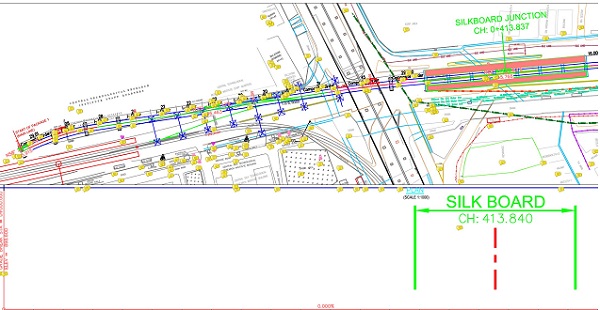 For more updates, check out the Bangalore section of The Metro Rail Guy!
– TMRG