November 9 Update: After negotiation, Ahluwalia Contracts has been awarded Mandale Depot's Rs. 530.32 crore contract.
Original Post:
Ahluwalia Contracts (India) Ltd. today emerged as the lowest bidder for completing the pending (balance) work at Mandale Depot of Mumbai Metro's 23.6 km Line-2B (Yellow Line), after officials from the Mumbai Metropolitan Region Development Authority (MMRDA) opened financial bids for Package C103 this afternoon.
The depot at Mandale will be the second maintenance depot (car shed) of the entire 42.2 km Line-2 and become the largest in Mumbai when built. Its development is crucial since the first depot at Malvani in Malad West will temporarily also have to service Line-7's BEML trains.
Per the plan, Mandale Depot will have a double-decker structure to stable a maximum of 72 trains of 8-coaches (total 576), and will come along with staff quarters, 9 inspection bays and 15 workshop lines.
Its construction contract was originally awarded to RCC Infra Ventures Ltd. – MBZ JV in 2017 under package CA-14, but terminated in January 2020 due to poor progress.
MMRDA then invited tenders for its pending work in February 2020 with an estimate of Rs 464.75 crore and opened technical bids in July to reveal 6 bidders. During technical bid evaluation – bids from Capacite, Man Infra and Relcon Infra were found to be technically non-compliant to the tender conditions, so their bids were disqualified and financial bids were not opened.
Financial Bid Values:
| | |
| --- | --- |
| Firm | Bid |
| Ahluwalia Contracts (India) Ltd. | Rs. 543.28 crore |
| NCC Ltd. | Rs. 554.91 crore |
| Afcons Infrastructure Ltd. | Rs. 587.12 crore |
| Capacite Infraprojects Ltd. | Disqualified |
| Man Infraconstruction Ltd. | Disqualified |
| Relcon Infraprojects Ltd. | Disqualified |
Package: L2B-C103
Brief Scope: Construction of (Balance Civil works of CA-14) Mandale Depot [including Architectural Finishing works and excluding Pre-Engineered Structure works] of Line 2B Corridor [D.N. Nagar to Mandale] of Mumbai Metro Rail Project of MMRDA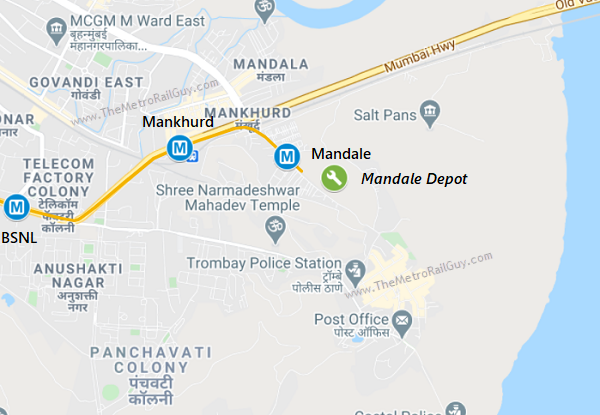 Although the lowest, Ahluwalia's bid was still Rs. 78.53 crores (roughly 17%) higher than MMRDA's estimate, so it remains to be seen if the MMRDA will (1) award as-is, (2) reduce the scope of work and negotiate to bring the final contract value down, or (3) totally scrap the bidding process and invite tenders again. The last two options will introduce further delays in its completion with number-2 being the one with the shorter duration. If and when awarded, Ahluwalia Contracts will have 42 months to complete all pending civil work.
For more updates, check out the Mumbai section of The Metro Rail Guy!
– TMRG