Ranjit Buildcon today emerged as the lowest bidder for constructing the 6.478 km Package C2 of the 28.254 km Ahmedabad Metro Phase 2 project, after officials from Gujarat Metro Rail Corporation (GMRC) opened financial bids submitted by 9 firms.
Phase 2 involves the construction of two elevated corridors, as an extension of the Phase 1's 18.522 km Line-2 (Red Line), northwards from Motera Cricket Stadium towards GNLU and onward to Mahatma Mandir in Gandhinagar. At GNLU Station, a short 5.42 km spur line will connect to GIFT City across the Sabarmati River.
GMRC had invited bids for two packages – C1 and C2 with a total length of 20.022 km – in January 2020 and expects the assigned contractors to complete all civil works within 30 months. Technical bids were opened on July 1 to reveal 12 firms / consortia had submitted 17 bids for both.
Package C2
GMRC's Estimate: Rs 470.064 Crore
| | |
| --- | --- |
| Firm | Bid |
| Ranjit Buildcon Ltd. | Rs 417.90 cr |
| Dilip Buildcon Ltd. | Rs 465.26 cr |
| Sadbhav Engineering Ltd. | Rs 466.27 cr |
| Afcons Infrastructure Ltd. | Rs 506.37 cr |
| JMC Projects India Ltd. | Rs 509.93 cr |
| Larsen & Toubro Ltd. | Rs 515.45 cr |
| GR Infraprojects Ltd. | Rs 530.75 cr |
| KCC Buildcon Pvt. Ltd. | Disqualified |
| KEC International Ltd. | Disqualified |
Brief Scope: Construction of 6.478km elevated viaducts and 5 stations from CH. 25467.443m to 31945.443m and 0.679 km elevated viaducts and ramp for depot entry in connection with Ahmedabad Metro Rail Project Phase – II from Motera Stadium to Mahatma Mandir (excl. E&M, architectural finishing and roofing)
Package C2 includes the 6.487 km elevated section from GNLU to Gandhinagar Sector-1 with 5 stations at Raysan, Randesan, Dholakuva Circle, Infocity, and Sector-1. A small 0.679 km ramp will be built leading to a new depot at Indroda Circle.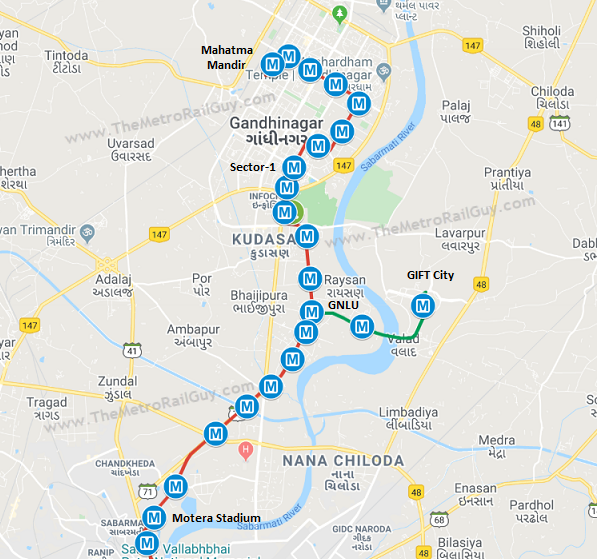 Ranjit Buildcon's bid of Rs 417.90 crore was 11.09% below GMRC's estimate of Rs 470.02 crore, so I don't see any issues arising during financial bid evaluation. If and when awarded, this will be their third major contract for the civil construction of a metro project. Prior contracts include Phase 1 Reach-4's 4.85 km viaduct between Motera – Ranip won in February 2016 and the 5 en-route stations won in February 2017.
Ahmedabad Metro's Phase 2 will be financed by the Japan International Cooperation Agency (JICA) and an agreement with the Government of India for an Official Development Assistance (ODA) loan of 13,967 million Japanese Yen (approximately Rs 880 crore) was signed in March 2020.
With today's development, financial bids now need to be opened for Package C1 which consists of 2 sections: Motera – GNLU (8.124 km) and GNLU – GIFT City (5.42 km). Also – a tender notice inviting bids is still pending for the last 8.2 km section of the line, all within Gandhinagar, to connect Sector-10A, Sachivalaya, Akshardham, Juna Sachivalaya, Sector-16, Sector-24 and Mahatma Mandir.
For more updates, check out the Ahmedabad section of The Metro Rail Guy!
– TMRG