Per the Bangalore Metro Rail Corporation Ltd (BMRCL)'s latest annual report for the year 2019-20, the operator is officially exploring to build just two corridors totaling 42 kms in Bangalore Metro's Phase 3 project.
The 2 lines and their lengths as shared in the past are:
Hebbal to JP Nagar along the Outer Ring Road's western section (assigned as Orange Line in 2019, approx. 30 kms)
Toll Gate (Hosahalli Station) to Kadabagere (approx. 12 kms)
Both lines were announced in March 2020 by Karnataka's Chief Minister for development as metrolite (light rail transit) lines through the public private partnership (PPP) model. Since then, they've featured multiple times in news reports, but this is the first official confirmation into what the BMRCL is precisely cooking in the upcoming phase 3 – straight from the horse's mouth.
Here's the exact snippet from page 36 of the annual report which indicates RITES is preparing Phase 3's Detailed Project Report with an aim to complete it in Q1 2021.
The Preparatory work for Phase-3 of Metro Project has concurrently been taken up. The preparation of Detailed Project Report (DPR) for two corridors of 42 km from JP Nagar to Hebbal (Corridor-1) along Outer Ring Road (ORR West) and on Magadi road from Toll gate (Hosahalli Metro Station) to Kadabagere (Corridor-2) on Peripheral Ring Road has been assigned to M/s. RITES Ltd and work is being commenced at site.

The consultant for the Detailed Project Report (DPR) has been asked to analyse various options regarding the type of Metro system and viability of PPP models. The DPR is expected to be available during first quarter of 2021.
Key: Phase 1 | Phase 2 | Phase 2A | Phase 2B | Phase 3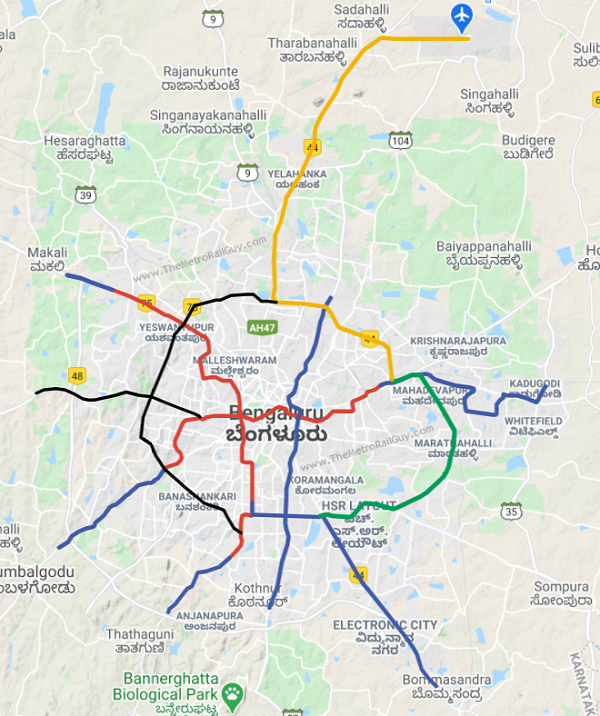 Back in 2016, BMRCL through RITES had prepared the project's pre-feasibility report and identified the following corridors totaling 105 km:
Nagawara – Airport (23 km)
Carmelaram – Yelahanka (32 km)
Marathahalli – Hosakerehalli (21 km)
Silkboard – KR Puram – Hebbal (29 km)
In 2018, BMRCL's MD identified the following additional corridors for Phase 3, with a primary aim to connect the city's suburbs:
Gottigere to Basavapura (extension of Pink Line)
RK Hegde Nagar to Aerospace Park
Kogilu Cross to Rajanukunte
Bommasandra to Attibele (extension of Yellow Line; dropped in March 2020)
Iblur to Carmelaram
It's safe to say that all of the above new lines or extensions are not being pursued anymore and have been officially canceled – either due to poor ridership projections or funding-related concerns.
That said, things change all the time. BMRCL's focus is currently entirely on the 73.92 km Phase 2, with an eye on the 18.2 km Phase 2A and 37 km Phase 2B which combined together are about as large. By the time they focus on Phase 3's development – which I imagine is 5 years away – some of the above lines could possibly be re-added into the mix of official plans.
For more updates, check out the Bangalore section of The Metro Rail Guy!
– TMRG
Hat-tip: Dikshant Sachan