Here we go again. Noida Metro Rail Corporation (NMRC) on Thursday canceled the civil tendering process for constructing a 9.605 km elevated extension of Noida Metro's Aqua Line from Noida Sector-51 to Greater Noida Sector-2.
This is the third time bidding has been cancelled for this section of the 29.7 km Aqua Line's 14.95 km eastern extension (Sector 51 to Knowledge Park V) which was approved for construction by Uttar Pradesh government in December 2019.
Bids for construction were re-invited in November-end 2020 with a Rs. 491.99 crore estimate and 24 month deadline. Technical bids were opened on December 18 to reveal 2 bidders – Sam India Builtwell and GR Infraprojects.
The official reason for canceling they've provided is: "Due to administrative reasons the above tender in reference stands cancelled", which is the exact verbiage used to cancel prior rounds.
Tender No: NMRC/Civil/NGNC/123R1/2020
Contract: NGNC-01
Brief Scope: Part Design and Construction of Elevated Viaduct and 5 elevated stations viz NOIDA SEC -122, NOIDA SEC-123 GR. NOIDA SEC-4 ECOTECH-12 GR NOIDA SEC-2 (excluding Architectural finishing Works and PEB works of stations) from Chainage 0.00 m to Chainage 9605 m of Noida -Greater Noida Metro Rail Project.
This package consists of 5 elevated stations at Noida Sector 122, Noida Sector 123, Greater Noida Sector 4, Ecotech 12 (Tech Zone) and Greater Noida Sector 2.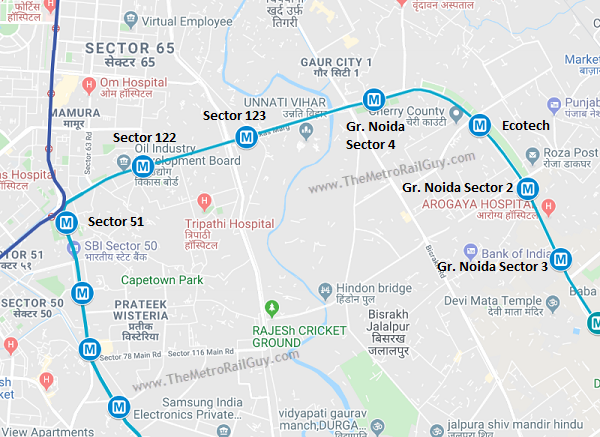 1st Round: NMRC had originally invited tenders in May 2020, received bids from 3 firms (1 of which was not a construction firm), and canceled the tender in July to seek a better response.
2nd Round: NMRC re-invited tenders in September 2020, received two bids from Sam India and GR Infraprojects in mid-November, and canceled the tender in November-end.
With this, we're now staring a 4th round of bidding. Unless NMRC relaxes conditions (duration and timelines for key milestones) with respect to the estimate, I don't know how different the response is going to be. If that's not done, the construction industry's leading firms will simply prefer sitting out.
For more updates, check out my Home Page!
– TMRG