Delhi Metro Pink Line's long pending 288.38m missing viaduct in Trilokpuri Block-15 has swiftly taken shape over the past two months following the launch of new steel composite girders.
Workers from Pragati Construction Consultants in January had completed building all 10 piers required for it, and then began launching steel composite girders on top. When it opens in Q3-Q4 this year, this little link in East Delhi will literally bridge the gap between Mayur Vihar Pocket 1 and Trilokpuri-Sanjay Lake stations leading to the unification of the city's 58.6 km Pink Line connecting Majlis Park and Shiv Vihar.
Construction work on this elevated section of Line-7 was originally awarded to ITD – ITD Cem JV in November 2012 as part of Package CC-26R, but work couldn't take off due to major delays in securing land for its construction – read all about that contentious issue in this post from 2016.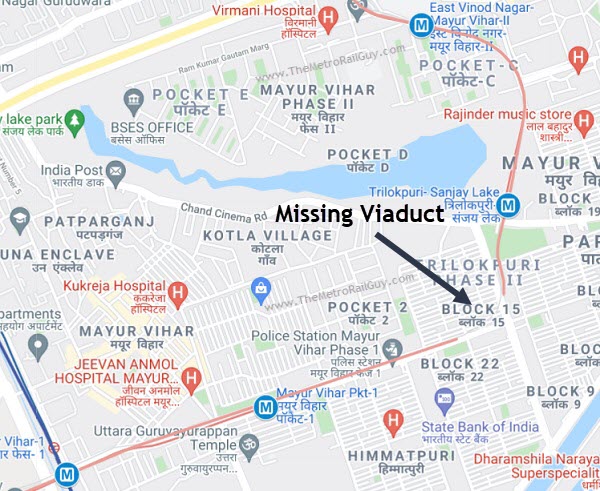 In April 2017, the DMRC spun this link – then 255.018m long – into its own little package (CC-125) and invited bids for its construction with a 8 month deadline. That round of bidding was cancelled in May.
Bids were re-invited in August 2019 as CC-125R with an increased route length of 288.381m, cancelled and then re-invited in September 2019 as Package CC-125R2 with an estimate of Rs. 26.03 crore. That final round of bidding saw 3 bids, and its contract was awarded to Pragati Construction Consultants in December 2019 with a 1 year deadline and value of Rs. 20.59 crore.
Brief Scope: Construction of Elevated Viaduct of length 288.381m (from Ch.39079.567m to 39367.949m) between Trilokpuri and Mayur Vihar Pkt.1 metro station of Line-7 of Mukundpur – Shiv Vihar Corridor of Phase-III Delhi MRTS.
Here are some snaps from a follower I shared on Twitter yesterday looking towards Trilokpuri-Sanjay Lake Station. Per another follower, all girders have been launched, including towards Mayur Vihar (behind the photographer).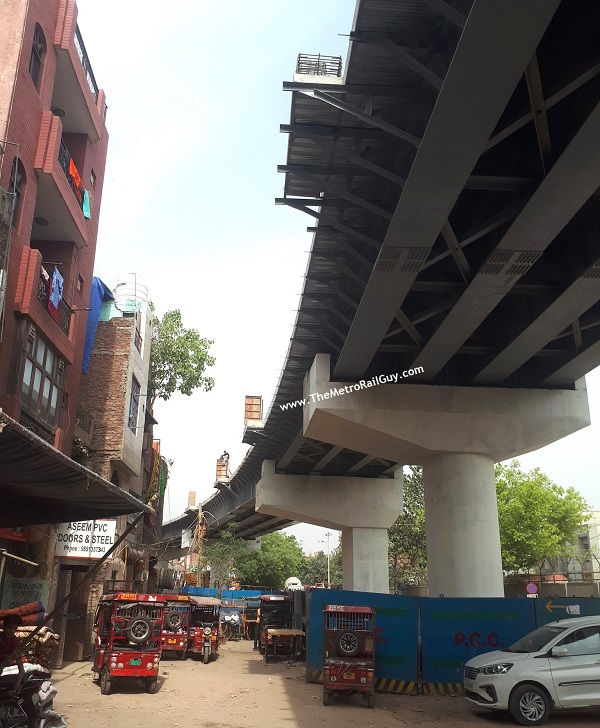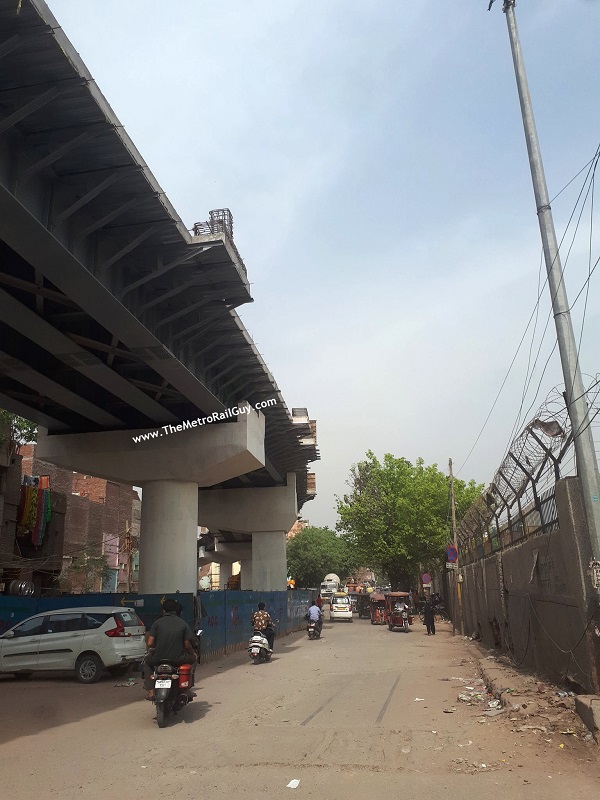 I'm trying to arrange for snaps of how things look on top to get an idea of how far other civil work (deck casting, parapet wall installation) and systems work (tracks, signaling and OHE electrification) has progressed. If I get a hold, I'll post them on Twitter.
May 1 Update: Here's a video from TOI. All girders are up.
The DMRC has waited years to get to this point, so I imagine they'll push all contractors (Bombardier for signaling & Siemens for electrification) to complete system installation works fairly quickly. I see trial runs starting towards the end of Q2 with contiguous train operations starting in Q3 or early Q4.
When that happens, only 2 more sections from the 162 km Phase 3 project will be pending inauguration, both in south-west Delhi:
Grey Line: Najafgarh to Dhansa Bus Stand (1.218 km, 1 station) – my last update on it saw Paras Railtech getting awarded pending tunnel work.
Airport Express Line: Dwarka Sector-21 to Dwarka ECC Sector-25 (1.878 km, 1 station) – my last update on that saw 4 firms bidding for ECC Station's platform screen doors. Technical bid evaluation is underway.
For more updates, check out my Home Page!
– TMRG