ITD Cementation India on Wednesday started lowering parts of Tunnel Boring Machine Bhadra (S-840B) at Venkateshpura Station on Bangalore Metro's 21.386 km Pink Line (Reach 6).
This refurbished Herrenknecht mixed-shield EPB machine, along with its sister machine TBM Tunga (S-839), had passed 3-day factory acceptance tests in January at Herrenknecht's plant in Tamil Nadu.
Both machines are now being deployed to build four tunnels each for the 73.92 km Bangalore Metro Phase 2 project's 4.591 km package RT-04 (Tannery Road – North Ramp) in north Bengaluru.
Work for Venkateshpura Station's launch shaft started in August 2020 and was completed in April 2021 through a series of controlled-blasts to assist with excavation work.
ITD's scope of work involves building a combined total of 6.34 km twin tunnels, roughly 360 meter ramp at Nagawara, and four stations at Tannery Road, Venkateshpura, Kadugundanahalli (formerly Arabic College) and Nagawara.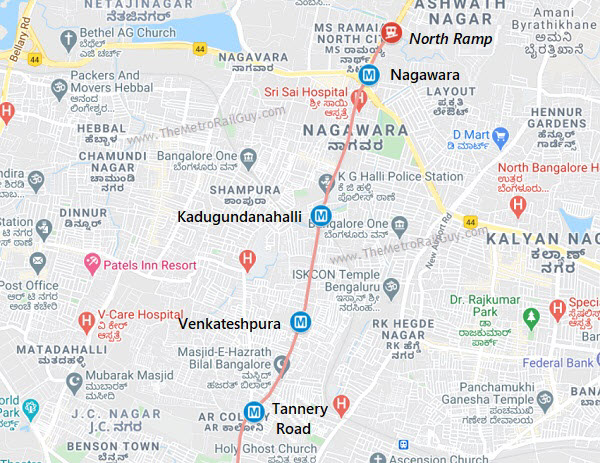 As shared earlier – both Tunga and Bhadra will first travel 822.99m south from Venkateshpura to Tannery Road, pass through the station box and tunnel 209.585m towards the retrieval shaft. After that, they will be brought back to Venkateshpura for tunneling 1172.16m towards Kadugundanahalli and a further 916.709m to Nagawara Station's TBM retrieval shaft.
Here's a snap of Bhadra's cutterhead getting lowered on Friday: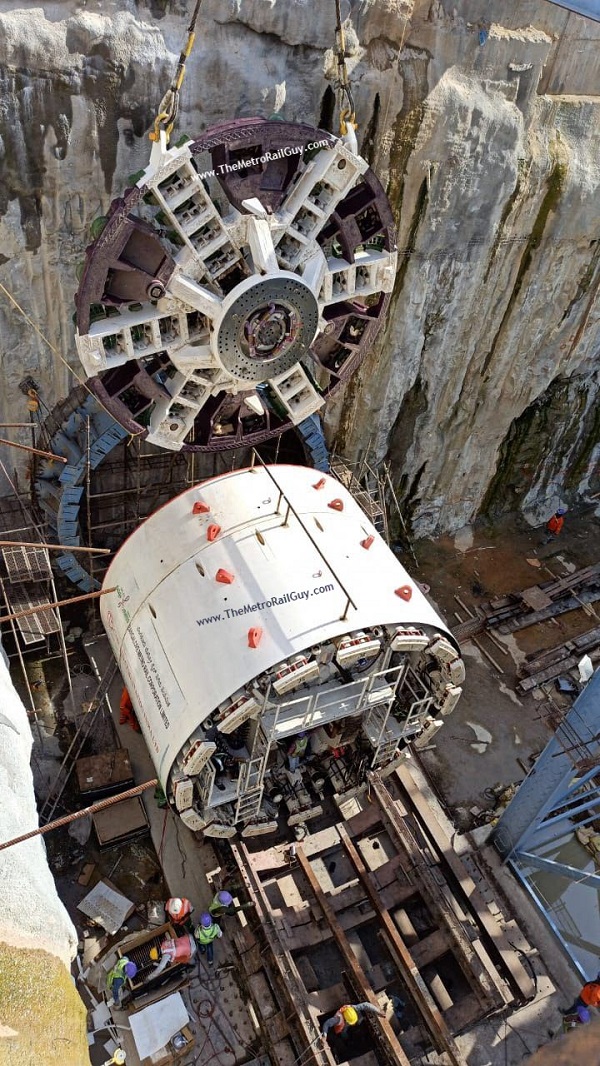 A total of 9 TBMs will be deployed by Afcons (3), Larsen & Toubro (4) and ITD Cementation (2) for constructing the city's Pink Line. With this development – 6 of those have been commissioned and parts of two have been or are being lowered for commissioning.
Here's a status of each machine with figures displayed from BMRCL's May newsletter. TBM Urja – working on the Cantonment to Shivajinagar section – has progressed by only 1.5 meters when compared to the April newsletter.
For more updates, check out my Home Page!
– TMRG