Tunnel boring machine (TBM) manufacturer Terratec in January completed factory acceptance tests (FAT) on the only new TBM for Surat Metro's Phase 1 project's 7.02 km underground section connecting Chowk Bazar and Kapodra.
This Ø6.61m earth pressure balance (EPB) TBM, S94, will be deployed along with TBM S78 from Pune Metro by Gulermak – Sam India Builtwell JV to build twin tunnels between Kapodra Ramp (North Ramp) and Surat Railway Station on the 21.61 km Line-1 (Sarthana – Dream City) .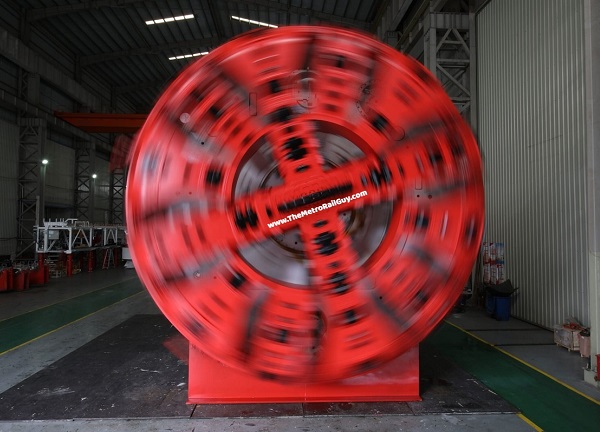 Both machines will build a total of 6 tunnels for the 3.46 km Package CS2 / UG1 which was awarded in March 2021 by Gujarat Metro Rail Corporation (GMRC). Gulermak-Sam's scope also includes the construction of 3 stations at Kapodra, Labheshwar Chowk and Central Warehouse.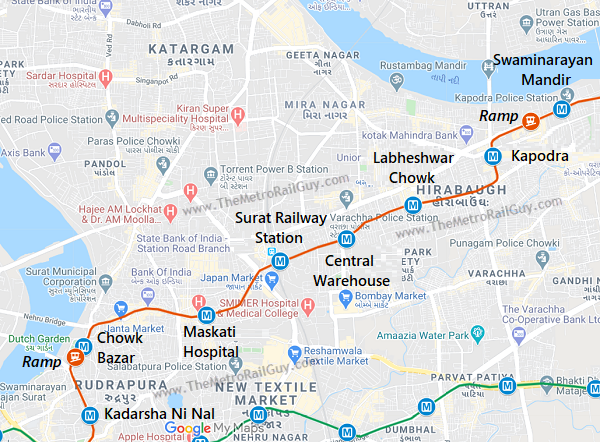 Per Terratec's press release, the expected geological conditions along the tunnel alignments comprise of sand, clay, gravel and silt.
The versatile TERRATEC EPBM units have robust mixed-face dome-style cutterheads designed to work effectively in the soil composed of sand, clay, gravel and silt. As the TBMs progress, they will install 1,500mm wide by 275mm thick pre-cast concrete lining rings, which consist of five segments plus a key.

For added versatility, TERRATEC has designed the CutterHead to allow the cutting tools to be exchangeable for 17'' disc cutters, allowing the TBM to be able to bore through the D-walls and cope with the presence of any unexpected obstacle on its way, such as old wells or foundations.

As the TBMs progress, they will install 275mm thick x 1500mm long, reinforced concrete Universal-style, pre-cast lining rings – comprising six segments + key. Muck removal, segment transport and logistics supply will be via locomotive and muck cars.
For the 3.56 km Package CS3 / UG2, J Kumar Infraprojects will be deploying two refurbished Terratec TBMs, S25 & S28, to build twin tunnels between Surat Railway Station and Chowk Bazar Ramp. Both machines are currently being overhauled and refurbished by J Kumar's team locally in Palanpur.
For more updates, check out the Surat section or my Home Page! Sign up for free instant email notifications on new posts over here. Like this post? See how you can get early-access to updates and support the site over here.
– TMRG