Mumbai Metropolitan Region Development Authority (MMRDA) today invited tenders to appoint a General Consultant (GC) for civil & system works of Mumbai Metro's 9.20 km Line-10 (Gaimukh – Shivaji Chowk) and 20.7 km Line-12 (Kalyan – Taloja).
The appointment of a dedicated General Consultant to assist MMRDA is expected to pave the way for both lines' speedy implementation through assistance in design, supervision, safety, quality control and contract management.
MMRDA had originally invited GC bids in July 2020 from global engineering and consultancy firms for just civil work. AECOM emerged as the preferred bidder in December 2020, but a contract wasn't awarded for reasons unknown to me. The new tender's scope includes both civil and system integration work.
Tender No: MMRDA/Metro- PIU/0002141
Brief Scope: GC-07A Appointment of General Consultant for Civil and System works of Mumbai Metro Line 10 (Gaimukh – Shivaji Chowk (Mira Road) and Mumbai Metro Line 12 (Kalyan- Taloja) of Mumbai Metro Rail Project of MMRDA, Mumbai.
Completion Period: 54 months
Documents on Sale: 15.02.2022 (1100 hrs) to 25.03.2022 (1800 hrs)
Pre-bid Meeting: 28.02.2022 (11.00 hrs)
Submission Deadline: 31.03.2022 (1800 hrs)
Technical Bid Opening: 04.04.2022 (11.00 hrs)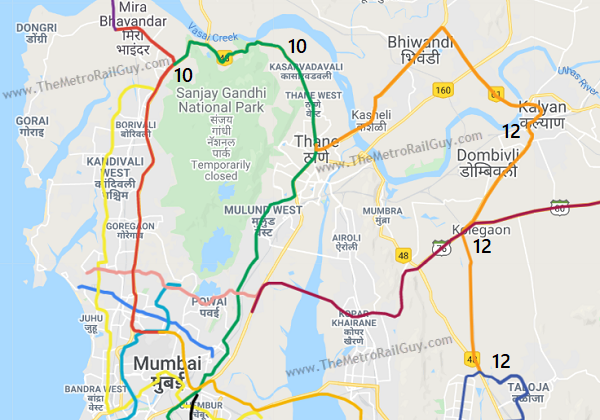 The GC's selection will be made on QCBS (Quality cum Cost Basis System) method with the winner scoring the highest points in Technical and Financial evaluation combined together.
Mumbai Metro's Line-10 will be built as a western extension of the 35.2 km Line-4/4A (Green Line) with 4 stations at Gaimukh Reti Bundar, Varsova Char Phata, Kashimira, Shivaji Chowk.
Line-12 will be built as a 20.75 km southern extension of the 24.95 km Line-5 (Orange Line) with 17 stations at Ganesh Nagar, Pisvali Gaon, Golavali, Dombivli MIDC, Sagaon, Sonarpada, Manpada, Hedutane, Kolegaon, Nilaje Gaon, Vadavali, Bale, Waklan, Turbhe, Pisarve Depot, Pisarve, Taloja. The line's depot is planned at Pisarve.
At this point of time, I don't see the tendering process starting for either line's civil construction before mid-2023.
For more updates, check out the Mumbai section or my Home Page! Sign up for free instant email notifications on new posts over here. Like this post? See how you can get early-access to updates and support the site over here.
– TMRG