Voestalpine VAE VKN India and Vossloh Cogifer are the two firms that have bid for manufacturing and supplying UIC-60 turnouts and scissor crossovers to the 65.1 km Delhi Metro Phase 4 project.
The scope of this package (DT-07) includes deliveries to the new 23.62 km Silver Line (Aerocity – Tughlakabad) and 12.58 km Pink Line extension (Mukundpur – Maujpur). Turnouts and crossovers for the Magenta Line's 28.92 km extension (Janakpuri West – R.K. Ashram) are part of a different package (DT-06).
These turnouts and crossovers will allow Delhi Metro's rolling stock (288 new coaches being procured) to guide from one track line to another.
Delhi Metro Rail Corporation (DMRC) invited tenders for this systems contract in February 2022 with an unknown estimate and 540 day (1.47 year) deadline. Technical bids were opened on Monday.
DMRC's Brief Scope: Design, Manufacturing and Supply of UIC-60 Turnouts and Scissor cross over for Ballasted/Ballast less Track of Delhi Metro Phase – IV Corridors (Line-7 Extension- Maujpur to MajlisPark and Line-10- Tughlakabad to Aerocity).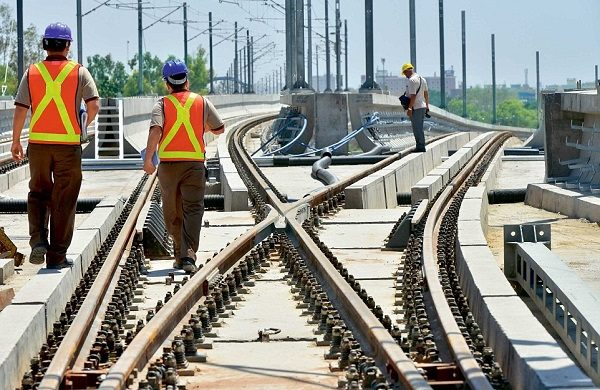 Both firms' bids have now been sent for technical evaluation which can take a couple months to complete. When that is done, the financial bids of the technically qualified bidders will be opened to reveal who's the lowest bidder and most likely contractor for this track-work package.
Typically these two firms are the only bidders for such specialized track work that requires high precision. Over the past year, Voestalpine has beaten Vossloh at least twice to win similar contracts for Delhi – Meerut RRTS and Agra & Kanpur metro projects.
A list of all Delhi Metro Phase 4 packages, their contractors and status can be viewed here.
For more updates, check out the Delhi Metro section or my Home Page! Sign up for free instant email notifications on new posts over here. Like this post? See how you can get early-access to updates and support the site over here.
– TMRG