Japan's Mitsui & Co. Ltd. in early-September was awarded a Rs. 163.30 crore contract for supplying head-hardened rails for Chennai Metro's new lines 3 and 5.
These special tracks will be 60E1 – 1080 grade as per Indian Railway Specification T-12-2009, and manufactured through a special heat treatment process to provide additional strength, lower residual stress, elongate track-life and minimize maintenance.
Both these lines of Chennai Metro's 118.9 km Phase 2 project will run in a north-south orientation to connect Madhavaram – SIPCOT (45.813 km Line-3) and Madhavaram – Sholinganallur (47 km Line-5) with a mix of elevated & underground stations.
CMRL invited tenders for this track contract, financed by JICA, in August 2021 with an unknown estimate and 1632 day (4.47 year) delivery deadline. Japan's Ohmi Industries was the only other bidder when technical bids were opened in February 2022 as the tender terms required a significant portion of Japanese content.
Final Contract Value: Rs. 163,30,68,478.67
Contract Date: September 5, 2022
Scope: Supply of 60E1 Profile, 1080 Grade (Head Hardened) Rails Conforming to IRS T-12-2009 (with latest amendments for CMRL Phase-II Project for Corridor 3&5.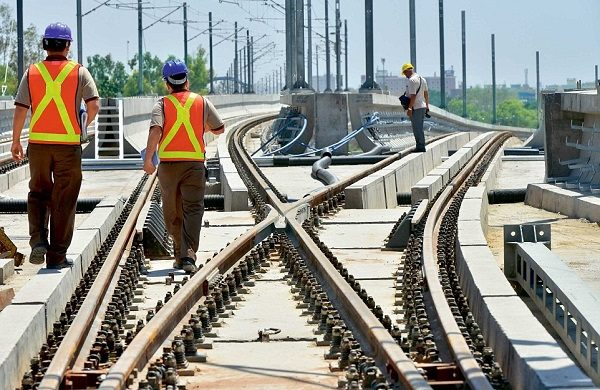 In the past Mitsui has supplied 10,600 metric tonnes of head hardened rails to Ahmedabad Metro's Phase 1 project, and is currently delivering to Bangalore Metro's Phase 2 project.
Retender notices are still pending for line 3 and 5's rolling stock contracts (ARE02: 210 coaches and ARE04: 126 coaches) after they were cancelled in June 2022 and December 2021, but I don't see it affecting operational timelines if they aren't out by Q2 2023.
A list of all Chennai Metro Phase 2 civil & system packages and their status can be viewed here.
For more updates, check out the Chennai section or my Home Page! Sign up for free instant email notifications on new posts over here. Like this post? Get early-access to updates and support the site over here.
– TMRG