Delhi Metro Rail Corporation (DMRC) today beat Keolis to emerge as the lowest bidder for the Operations & Maintenance (O&M) contract of Mumbai Metro's 33.5 km Line-3 (Aqua Line).
DMRC won the contract for a period of 10 years for this underground line which is under construction to connect Cuffe Parade – BKC – SEEPZ – Aarey Colony through 27 stations.
Per DMRC's press release, their scope of work primarily includes the following responsibilities:
Metro Rail Operation & Safety Management
Revenue Collection including management of Ticket sales, Maintenance of Metro Assets, Minor Civil repairs of stations and buildings, Hiring, Training and timely organizing competency of all staff, Marketing and sales assistance.
Management of contracts including Training and timely organizing competency of their staff, which shall be awarded by the employer, including Housekeeping, Security (Guards for watch and ward), Call Center, Horticulture, Parking, etc.
Mumbai Metro Rail Corporation (MMRC) had invited bids for this contract in October 2022 and opened technical bids in December 2022.
I don't have bid values for this tender. If someone does, then leave a comment below or shoot me a message via the Contact page. I'd like to add it in here for record keeping.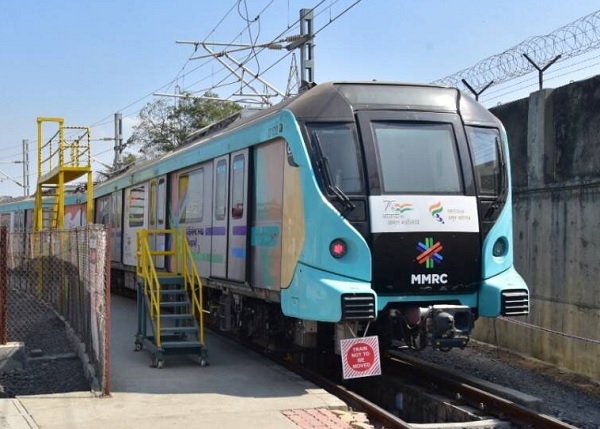 Consultants from Japan's JICA, JICT, Padeco and MDC had prepared a report for Line-3's O&M back in October 2015 – check it out here.
Within the report, among several interesting recommendations is this cute comic with a representation of congestion rates. They advise that a 150% rate is desirable with the description that this rate allows "passengers standing shoulder to shoulder can easily read newspapers".
DMRC isn't new to Mumbai. They were the implementing agency for 18.6 km Line-2A (DN Nagar – Dahisar East) and the interim consultant for 16.5 km Line-7 (Dahisar East – Andheri East).
Within the National Capital Region, DMRC has provided O&M services to Noida Metro through a MoU signed in August 2016, and has taken over O&M of Gurgaon's 12.1 km Rapid Rail from RMRG and 22.7 km Airport Express Line from DAEMPL.
DMRC has also entered the construction space. This week put in a surprise bid in a JV with DRA Infra for Mumbai – Ahmedabad Bullet Train's Package C3 in Maharashtra – see details here.
For more updates, check out the Mumbai section or my Home Page! Sign up for free instant email notifications on new posts over here. Like this post? Get early-access to updates and support the site over here.
– TMRG