NCC Ltd. on Friday night celebrated launching their 100th of 730 U-girders for Package 2 of Bangalore Metro's 37 km Airport Line (Blue Line) which will link Bengaluru's Kempegowda International Airport (KIA) to KR Puram.
This milestone was recorded north of Yelahanka Station using a 27.90 long U-girder cast at NCC's yard located in Hennur (view on Google Maps).
This new metro line, under Bangalore Metro Phase 2B project, comprises of 3 civil packages ranging from 11 to 15 kms. NCC was awarded 3 LOA contracts in November 2021 for 15 elevated stations & viaduct construction work, with completion deadlines ranging from 24 – 27 months.
11.678 km Package 2 connects Hebbal – Bagalur Cross (chainage 10072.00m to 21500.000m) with 5 elevated stations at Hebbal, Kodigehalli, Jakkur Cross, Yelahanka and Bagalur Cross.
This weekend I updated Phase 2A and Phase 2B maps to show the exact location of all stations – see here for Phase 2A (Silkboard – KR Puram) and here for Phase 2B (KR Puram – Airport).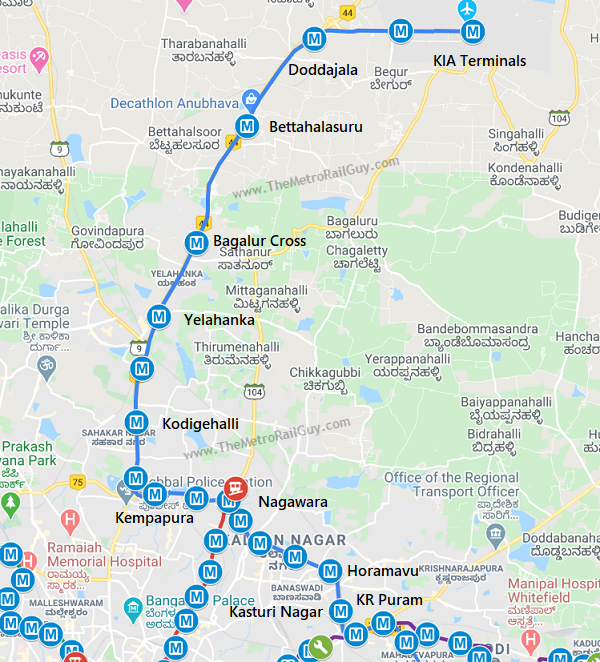 NCC's various teams began piling for construction in February 2022, cast the 1st pile cap in March 2022, and began casting U-girders for packages 1 & 2 in June 2022.
In Package 2, NCC will launch 660 U-girders for its viaduct and 70 U-girders at the track-level within the 5 stations. The very first U-girder was launched in May 2023 between piers AP700 – AP701 near Bagalur Cross Station.
This milestone was recorded in roughly 4 months after the 1st U-girder was launched. As I've mentioned in other posts – site conditions vary across the country, but for comparison with other metro systems where data is available, Afcons Infrastructure for Kanpur Metro's Package KNPCC-02R launched their 100th girder in just 67 days (2 months) and 200th in another 63 days.
Just last week NCC launched Package 1's first U-girder in Horamavu – see details & pics.
For more updates, check out the Bangalore section or my Home Page! Sign up for free instant email notifications on new posts over here. Like this post? Get early-access to updates and support the site over here.
– TMRG