Four global rail firms – Alstom, Bombardier, Hitachi & Siemens – have submitted bids for the signalling, train control and platform screen doors system of Mumbai Metro's 32.32 km Line-4 and 2.88 km Line-4A (Green Line), after officials from the Mumbai Metropolitan Region Development Authority (MMRDA) opened technical bids on Tuesday to reveal its list of bidders.
MMRDA had invited bids for this package of Line-4/4A (Wadala – Kasarvadavali – Gaimukh) in April-end, and expects the appointed contractor to complete all works within 137 weeks.
After the 234 coach rolling stock tender, which is still under technical bid evaluation, this is the second significant systems-related contract under tendering for this elevated line which will traverse the eastern part of the city – view route map.
Bidders:
Alstom Transport Ltd.
Bombardier Transportation India Ltd – Bombardier Transportation Signal (Thailand) Ltd JV
Hitachi Rail STS India Pvt. Ltd.
Siemens India Ltd.
Contract: MMRDA/4 & 4A/CA72
Scope: Design, Manufacture, Supply, Installation, Testing, and Commissioning of Signalling and Train Control including Platform Screen Doors system for Main Line and Depot of Line 4 and Its Extension Corridor (Wadala – Kasarvadavali – Gaimukh) of Mumbai Metro Rail Project of MMRDA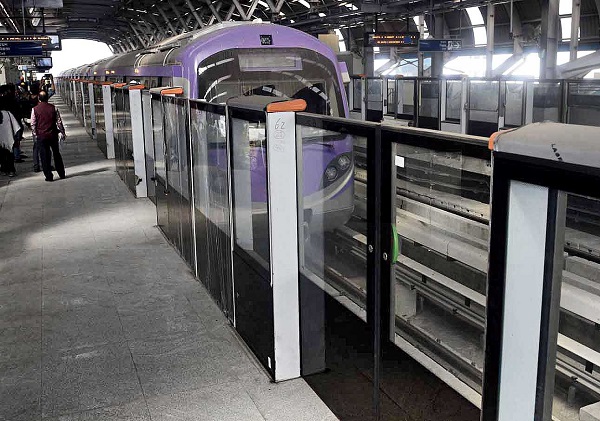 The bids have now been sent for technical evaluation which can take half a year, looking at the rolling stock tender's timeline, to get completed. When that is done, the financial bids of the technically qualified bidders will be opened to reveal who's the lowest bidder and most likely vendor.
As shared earlier, like Mumbai Metro's Line-2 (Yellow Line) and Line-7 (Red Line), whose signalling contract was won by Alstom in 2019, a communications-based train control (CBTC) signalling solution is expected to also be deployed on Line-4 to enable high frequencies and headways of 1.5 minutes (90 seconds) with unattended train operations (UTO) or driverless operations in the future, if desired.
Here's a nice video comparing the old Distance-to-Go signalling (Fixed Block) with CBTC signalling:
Platform screen doors (PSDs) with half-height will be installed on all 34 elevated stations of Line-4 (32) and its Line-4A extension (2) for passenger safety to prevent suicides & accidents during passenger movement. In India, these are currently operational across Chennai Metro's Blue & Green lines, Delhi Metro's Yellow (few stations), Pink, Magenta & Airport Express lines, Noida Metro's Aqua Line, Kolkata Metro's Line-2, and in the coming years will be installed in Mumbai (Line-2, 3, 7), Ahmedabad, Pune and Nagpur.
For more updates, check out the Mumbai section of The Metro Rail Guy!
– TMRG