October 23 Update: Ghaziabad Mechfab has been awarded Package DC-25's Rs 48.54 crore contract.
Original Post:
Ghaziabad Mechfab Pvt. Ltd. today emerged as the lowest bidder for remodeling Ajronda Depot in Faridabad on Delhi Metro's 46.63 km Violet Line, after officials from the Delhi Metro Rail Corporation (DMRC) opened financial bids submitted by 10 infrastructure companies.
This contract to remodel and increase Ajronda Depot's capacity is part of the DMRC's strategic plan to repurpose Sarita Vihar Depot for stabling and maintaining trains on the Phase 4 project's upcoming 20.201 km Silver Line which will connect Aerocity – Tughlakabad line in the future.
DMRC invited bids for its remodeling in mid-June with an estimated cost of Rs. 61.65 crore and expects the assigned contractor to complete all work within 21 months. Technical bids were opened in August to reveal 10 bidders. During technical bid evaluation, Dineshchandra R. Agrawal Infracon's bid was found to be technically not compliant, so their financial bid was not opened.
Financial Bid Values:
| | |
| --- | --- |
| Firm | Bid |
| Ghaziabad Mechfab | Rs 48.54 cr |
| Quality Buildcon | Rs 52.16 cr |
| KR Anand | Rs 54.86 cr |
| Pragati Construction | Rs 55.99 cr |
| URC Construction | Rs 56.34 cr |
| Dharamraj Contracts | Rs 58.55 cr |
| Lisha Engineers | Rs 58.89 cr |
| Som Projects | Rs 59.68 cr |
| SCC Infrastructure | Rs 60.97 cr |
| DRA Infracon | Disqualified |
Contract: DC-25
Brief Scope: Civil works for Remodeling, Construction of Ajronda Metro Depot cum Workshop and Inspection Bay Line including Design, Fabrication, Supply, Erection of Pre-Fabricated Steel Roof Structure, Roof Portals, Purlins, Sheeting etc. at Ajronda Metro Depot for Delhi MRTS Project. (view detailed scope here)
The depot's architectural drawing in the tender documents isn't that clear, but here it is for whatever it's worth –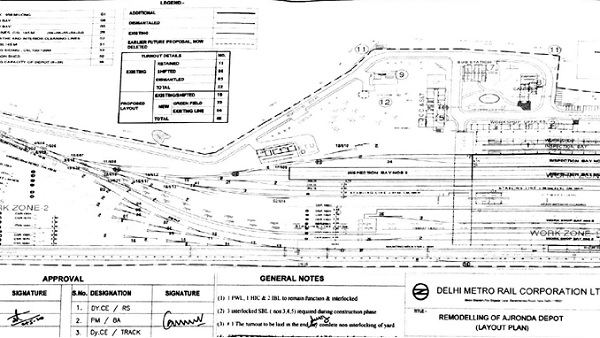 Ghaziabad Mechfab's bid, in fact every firm's bid, was less than the DMRC's estimate so I don't see any issues arising during financial bid evaluation.
In the coming weeks, DMRC should award Ghaziabad Mechfab with Phase 4's 6th major civil construction contract – view a list of all contracts here. Prior to this, they remodeled Blue Line's Najafgarh Depot and carved out a dedicated small depot for the Grey Line's Hyundai Rotem rolling stock.
Next up – DMRC will open financial bids for Sarita Vihar Depot's remodeling. That tender received 3 bids in August, and its scope includes a ramp to an underground depot-line since the Silver Line's main-line and terminal station at Tughlakabad are roughly a kilometer away.
Back in September, Jindal Steel and Power Ltd. (JSPL) and Steel Authority of India Ltd. (SAIL) had submitted bids to DMRC for supplying new track-work at both depots and 5 others across Delhi and Mumbai.
For more updates, check out the Delhi section of The Metro Rail Guy!
– TMRG