March 4, 2021: MMRDA has awarded Alstom with Mumbai Metro Line-4 & 4A's 234 coach rolling stock contract. Alstom had completed their acquisition of Bombardier in late-January 2021.
January 17, 2021 Original Post:
Bombardier Transportation on Saturday emerged as the lowest bidder to design and supply 234 metro coaches (Rolling Stock Package MRS2) for Mumbai Metro's under construction 35.2 km Line-4 & 4A (Green Line) which will connect Wadala – Kasaravadavali – Gaimukh through 34 stations.
The procurement of Line-4's 234 coaches, signalling & platform screen doors is being financed through a 525 million euro loan from KfW for which an official loan agreement was signed in November.
Mumbai Metropolitan Region Development Authority (MMRDA) had invited bids for the procurement of this line's rolling stock on December 20, 2019 with an estimate of Rs. 1865 crore and completion period of 144 weeks. Technical bids were opened on May 29, 2020 to reveal 3 bidders – BEML, Bombardier and CRRC.
The following price/car values are unconfirmed. I'll remove this message when confirmed.
| | |
| --- | --- |
| Firm | Price/Car & Approx. Total Bid |
| Bombardier | Rs 7.92 crore (Rs. 1853.28 crore) |
| BEML | Rs 8.31 crore (Rs. 1944.54 crore) |
| CRRC | Disqualified in Technical Bid Evaluation |
Brief Scope of MRS2: Design, Manufacture, Supply, Testing and Commissioning of 234 Nos. Standard Gauge Cars Including Training of Line 4 And Extension Corridor [Wadala – Kasarvadavali – Gaimukh] of Mumbai Metro Rail Project of MMRDA.
Per MMRDA's tender documents, Line-4's train-sets with light weight fully furnished modern passenger cars must be fit for Unattended Train Operations (UTO) confirming to Grade of Automation- GoA4 as specified in IEC 62290:2014 or latest. The trains shall initially be operated in GoA2 mode and will be progressively operated in GoA3/GoA4 mode (see GoA graphic for explanation).
The rake formation shall generally be as follows:
• 3 Car train formation: DMC – TC – DMC
• 6 Car train formation: DMC – TC – MC – MC – TC – DMC
DMC = Driving Motor Car; MC = Motor Car ; TC = Trailer Car
Line-4 Rolling Stock Specifications
Safe train speed: 90 kmph
Door opening times: 2.5 s (Max.)
Door closing times: 3.5 s (Max.)
Tare weight of a unit 126T for 3-car unit with weight of any car should not exceed 42T
No of axles per car: 4
Maximum Static Axle Load: 17 tonne
Train length: 6 Car Train 136m (approximately)
Maximum Length over couplers for all cars: 23000 mm
Maximum Length over Car Body (including end fairings)
– DMC: 22,350 mm
– MC/TC: 22,010 mm
Maximum Width over Body: 3,200 mm
Maximum Vehicle Overhang: 3630 ± 175 mm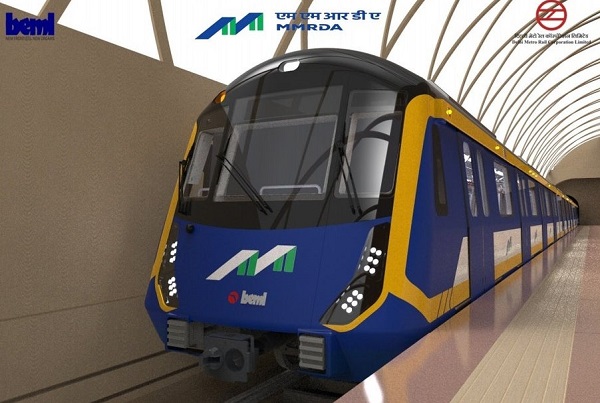 Financial bid values are unconfirmed at this time, but if Bombardier's bid is indeed Rs 1853.28 crore, then it aligns very well with MMRDA's budgeted estimate of Rs. 1865 crore.
If no extraneous issues arise during financial evaluation, then following KfW's approval, Bombardier will go on to be awarded with Line-4/4A's MRS2 rolling stock contract in the coming weeks. This will be their 3rd major win in India in the past 8 months. Back in May 2020, they won the 82.15 km Delhi – Meerut RRTS line's rolling stock contract for 210 coaches (30×6 + 10×3), and in June they won Kanpur and Agra Metros' 201 (67×3) coach contract.
Once awarded, Line-4's new trains' design is expected to be officially revealed by MMRDA or leaked out in about 9 months.
Alstom is expecting to close out their acquisition of Bombardier Transportation on January 29, following the receipt of all regulatory approvals in December 2020, so this is essentially a win for them. Whether they manufacture these from Bombardier's plant in Savli, Gujarat or from Alstom's plant in Sri City, Andhra Pradesh remains to be seen. Both plants are booked up – see this post for Alstom's order book – so it'll be interesting to see where these will be manufactured.
Update: Bombardier's VP for India & SE Asia Product Family has indicated on LinkedIn these trains will be designed at their Hyderabad Global Engineering and Technology Centre.
For more updates on India's metro systems, check out my Home Page!
– TMRG