Late last night, BEML and its transportation contractor loaded 6 coaches of the first train-set for Mumbai Metro's 18.6 Line-2A (Yellow Line) on top of trailers for delivery out of their facility in CV Raman Nagar, Bengaluru.
This incomplete train-set is being sent to Mumbai without any dynamic testing being performed, perhaps the first time in India, due to pressure from the Mumbai Metropolitan Region Development Authority (MMRDA) which plans to host a mega media event after the train arrives at Charkop Depot mid next week.
As shared earlier, the train is missing critical internal electrical and propulsion parts from Japan, likely from Hitachi, which was confirmed by MMRDA's chief to Tanushree Venkatraman at HT last week. Final assembly and testing will take place in Mumbai in the run-up to the line's deadline of May 2021, which is unattainable.
Ten trains are ready at the manufacturing depot in BEML. The first train will reach Mumbai by road on January 27-28, post which some minor works will be undertaken at the depot itself.

RA Rajeev, Metropolitan Commissioner, MMRDA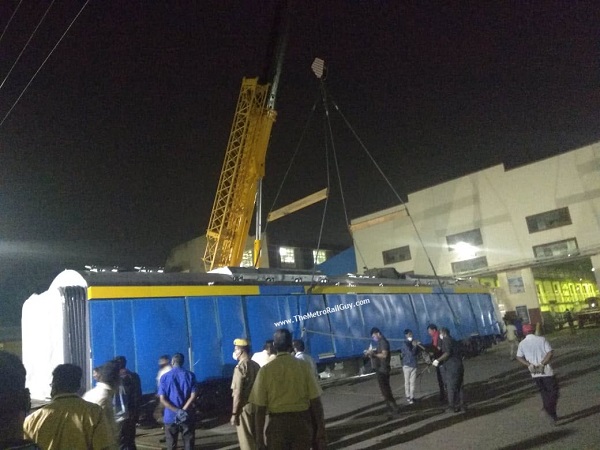 BEML is producing a total of 96 new train-sets as part of contract MRS1 awarded by the Delhi Metro Rail Corporation (DMRC) in November 2018 to operate on Mumbai Metro's upcoming 18.6 Line-2A (Yellow Line) and 16.5 km Line-7 (Red Line). In the future these will go on to service each line's extension as well (Line-2B, Line-7A & Line-9).
Here's a list of all orders DMRC has placed with BEML after they emerged as the lowest bidder for rolling stock package MRS1 in 2018. A total of 576 (96 train-sets) are on order:
Contract MRS1 – 378 coach order (63 train-sets) valued at Rs 3015 cr – LOA issued in November 2018
Additional Order – 126 coach order (21 train-sets) valued at Rs. 834 cr – LOA issued in August 2019
Additional Order – 72 coach order (12 train-sets) valued at Rs. 501 cr – LOA issued in November 2020
Like the Delhi Metro's new Hyundai Rotem trains for the new Pink & Magenta lines, these trains will be capable of running without an operator or 'driverless' on the unattended train operation (UTO) mode. Major technical details of Mumbai's MRS1 train-sets can be viewed here.
BEML has so far hosted two high-level ministerial visits over the past week. Here are some nice views of the train right next to a new Bangalore Metro train: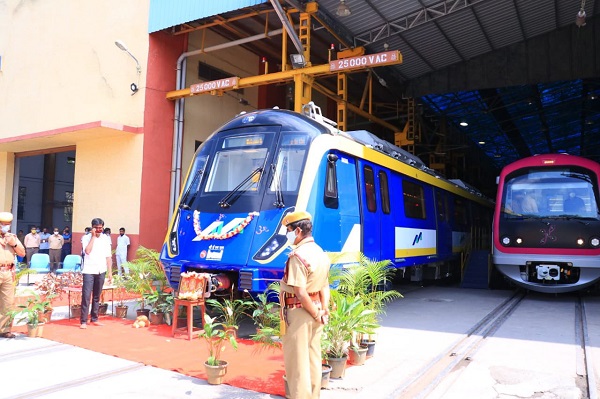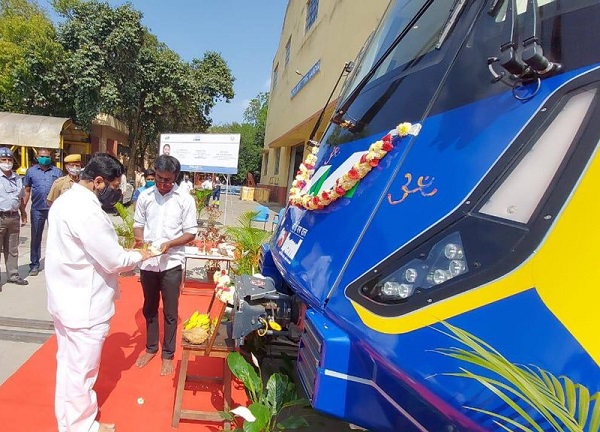 The viaducts for both the depot-line and main-line right outside of Charkop Depot near Dahanukarwadi are incomplete, so it'll be many months before the train ventures out.
All of these events – including the upcoming media event – are reminiscent of how the Delhi Metro handled "trial runs" on its Pink Line with a major media event in May 2016 while the tunnels right outside of the Mukundpur Depot were incomplete as two TBMs had broken down and two more had to be deployed. Commercial services on that line went on to start in March 2018. I'm not expecting a 1:1 similar timeline – this is just uncanny resemblance I thought I'd share as Indian metro operators aren't known to be candid about what's really cooking.
For more updates on India's metro systems, check out my Home Page!
– TMRG
Subscribe to Free Email Notifications