Larsen & Toubro is once again the only bidder for constructing Chennai Metro Line-5's 10.2 km CMBT – Venugopal Nagar section after Chennai Metro Rail Ltd. (CMRL) today opened technical bids for Package CP10-EV-03.
This package consists of 1 underground and 11 elevated stations at the northern-end of the 47 km Line-5 which will connect Madhavaram – Sholinganallur through 48 stations in the 118.9 km Chennai Metro Phase 2 project.
It consists of 2 disjointed sections on either side of the underground Package UG6 (Kolathur – Nathamnuni) for which bids were invited in January 2021. The two sections and other infra include:
CMBT to Nathamuni Ramp – 5 stations at CMBT, Kaliamman Koil Street Junction, Kendriya Vidyalaya, Thirumangalam & Anna Nagar Depot
Retteri Ramp to Venugopal Nagar – 7 stations at Retteri Junction, Shastri Nagar, MMBT, Velmurugan Nagar, Manjambakkam, Assisi Nagar & Venugopal Nagar (underground)
1.5 km depot-line to lines 3 & 5's Madhavaram Depot (6 bids received today)
Cut & cover section between Assisi Nagar Ramp and Venugopal Nagar (length not disclosed)
CMRL invited bids for this package in February with a 36 month deadline and an undisclosed estimate.
Tender No.: CMRL/CON/PHASE-II/CORRIDOR5/CP10-EV-03/2021
Brief Scope: Construction of approx. 10.2 km of elevated viaduct, elevated ramps and 11 nos elevated stations from Assissi Nagar to CMBT (excluding the underground portion from Retteri Ramp to Nathamuni Ramp) and cut and cover section, depot approach of approx. 1.5 kms and Venugopal Nagar underground station with verification of design suitability for construction including architectural finishes, plumbing works, signages and all associated works in Corridor 5.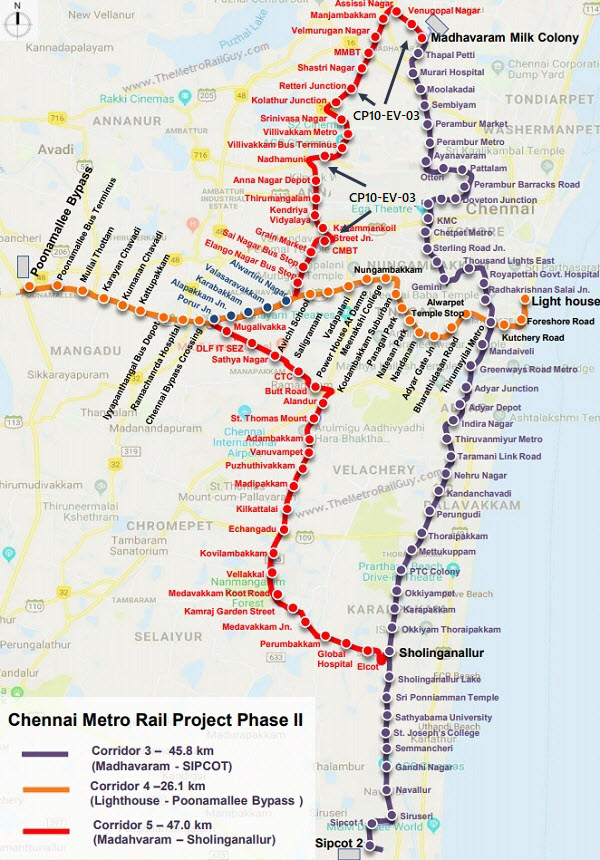 Whether CMRL is satisfied or not with receiving just 1 bid remains to be seen. If they aren't, then this will head to a retender. If they are, then L&T's technical bid will be evaluated for the next steps in the tendering process.
The state elections and 2nd wave pushed the submission date out for many tenders, but things are now moving along nicely with multiple openings each week. With today's development, here's a status of all civil packages on Line-5 (north to south):
| | |
| --- | --- |
| Package CP10-EV-03 – 10.2 km viaduct, 11 elevated stations and 1 underground station between CMBT and Venugopal Nagar | L&T is the only bidder (this post!) |
| Package UG6 – 5.8 km underground section with 5 stations from Kolathur and Nathamuni | Bids Invited in January – Bid Opening: July 31 |
| Package C5-ECV-02 – 12.431 km elevated section from CMBT to Alwartiru Nagar and from Porur Junction to Puzhuthivakkam with 12 stations | Technical Bid Evaluation Underway – Larsen & Toubro is the only bidder |
| Line-4 & 5: Package C4-ECV-01 – 7.955 km elevated section from Power House to Porur Junction with 9 stations | Awarded to Larsen & Toubro |
| Package C5-ECV-03 – 11.61 km elevated section with 11 stations from Puzhuthivakkam to Sholinganallur | Technical Bid Evaluation Underway – 3 Bids Received in June |
A list of all Phase 2 civil packages and their status can be viewed here.
For more updates, check out the Chennai section or my Home Page!
– TMRG